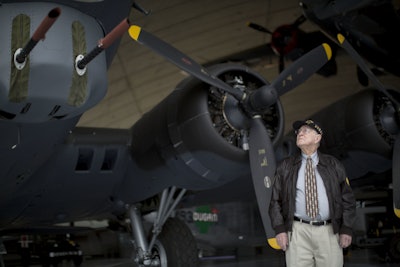 As Britons ponder their place in Europe ahead of a vote on European Union membership, a newly reopened museum serves as a reminder that the U.K. has often looked west — to a "special relationship" with the United States that has survived revolution and been cemented by war.
The American Air Museum, which reopens Saturday after a major revamp, holds almost a century's worth of American aircraft that have been based in Britain, from World War II bombers to a supersonic SR-71 Blackbird spy plane and a modern F-15 fighter jet. The hangar-like space, designed by Norman Foster and Partners, bristles with steel: There are Mustangs, Thunderbirds and Warthogs, tiny biplanes and a vast B-52 Stratofortress.
But the museum's displays also tell smaller, more human, stories. There are silk stockings and Wrigley's gum, a war reporter's fur coat and a second-hand wedding dress, painstakingly stitched and altered amid the rationing of World War II.
"It was a beautiful dress," said Peggy Albertson, who wore it on her wedding day in 1945. "Mind you, I wasn't too keen on that long train and that long veil, because it kept getting in the way. Those air force chaps, they're not too careful what they step on."
Albertson's story is one of thousands of individual special relationships forged in wartime. She met her husband Joe, an American airman, while she was a "land girl," working the fields with the Women's Land Army.
They married when she was 19 and he was 22, and Albertson became one of thousands of British "GI brides" to settle in the U.S. It was a shock — on her first night in New York, she heard a police siren and leapt under the bed, thinking it was an air raid.
But, she says, "I was very lucky." Her husband and his family were welcoming, and the marriage lasted 60 years until his death in 2006.
Albertson's story is one of dozens of individual accounts that museum curators have collected to bring the story of aviation and war to life.
Museum project leader Jenny Cousins said she hoped visitors would feel like they understood the people who are featured "and the decisions they made."
"History is not something that just happened," she said. "It happened because people made choices."
Individuals whose experiences are profiled include reporter Virginia Irwin, who covered the liberation of Berlin for the St. Louis Post-Dispatch, and explosives expert Jack ReVelle, who defused a nuclear bomb and averted cataclysm when a B-52 crashed in North Carolina in 1961. There's testimony by Anna Macdonald, who led the push for an international arms treaty, as well accounts from World War II combatants like Bill Toombs, a flight engineer on B-17 and B-24 bombers.
"It brings back a lot of fond memories and a lot of bad memories," 91-year-old Toombs said Wednesday, looking at the models of aircraft he once flew. "I lost a lot of good friends on these planes."
The museum, on a former World War II airfield 50 miles (80 kilometers) north of London, pays tribute to the 30,000 U.S. airmen and women based in Britain who died during the conflict. They were among almost half a million U.S. air force personnel deployed in the U.K. in what was dubbed the "friendly invasion."
Americans and Britons found they had much in common — and a lot to find bewildering, in matters ranging from driving — keep left! — to tea.
Where Toombs came from — Little Rock, Arkansas — tea meant the iced variety, not the scalding-hot British beverage.
"I got to acquire a taste for it," Toombs says diplomatically.
The trans-Atlantic divide ran both ways. Albertson vividly remembers her first experience of spaghetti, a delicacy unknown in wartime Britain.
"They handed the spaghetti round in the plate and I looked at it and said, 'I'm sorry, I don't eat worms,'" she said. "I think my husband could have got underneath the table."