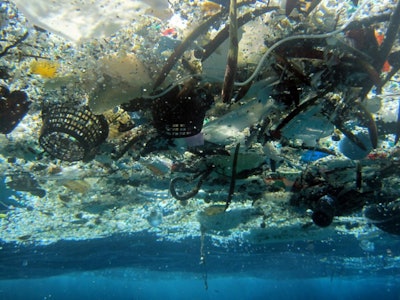 A newly released report calls for an overhaul of the global plastics industry and suggests that without action, the amount of plastic in the ocean will eclipse fish in coming decades.

The report, compiled by the World Economic Forum, the Ellen MacArthur Foundation and consulting firm McKinsey & Company, said that plastic use increased twentyfold over the last 50 years and is expected to double in the next two decades.

Currently, nearly one-third of plastic packaging escapes collection systems and enters either urban infrastructure or the environment. More than 150 million tons of plastics are currently in the ocean, and at least 8 million additional tons are added each year.
At the current pace, the weight of fish in the ocean will exceed the overall weight of plastics by a 3-to-1 margin in 10 years, and by 2050, plastics would exceed fish.
In addition, the report said that 95 percent of the value of plastic packaging material is lost after a brief initial use, and plastics that do enter recycling systems are not recyclable a second time.

The analysis argued that the environmental costs of plastics — both through pollution and the burning of fossil fuels needed to produce them — exceed the plastics industry's profit pool.

The study also noted the possible health consequences of repeated plastics exposure and warned of the need to conform to global agreements to curb climate change.

"It is high time to implement the circular economy principles in the plastic sector," said Antoine Frérot, CEO of French environmental services company Veolia.
The report called for a "New Plastics Economy" in which no plastic is wasted.

Instead, the industry would develop and utilize renewable and environmentally friendly feedstock materials, while governments and companies would improve recycling and other after-use systems.

The effort, analysts wrote, would require collaboration among all stakeholders on a global scale.

Mogens Lykketoft, president of the UN General Assembly, wrote that although plastics offer "tangible and substantial benefits" to the modern economy, their "drawbacks are significant, long-term and too obvious to ignore."