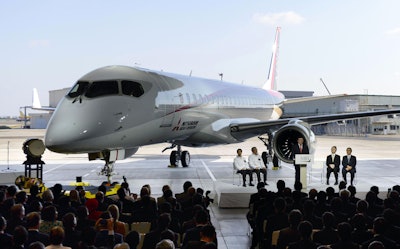 Mitsubishi, a maker of the World War II-era Zero fighter, said Thursday it plans to postpone by one year its deliveries of its new regional jet, to mid-2018.
The jet recently made a successful maiden flight that "confirmed the basic characteristics to be satisfactory," the company said in a statement. But it said several issues need to be addressed so the jet's development schedule was revised.
The company did not provide details about those issues.
Industrial conglomerate Mitsubishi aims to reclaim Japan's one-time status as an aviation power some 70 years after the country suspended making planes following its defeat in World War II.
While it holds advanced knowhow in avionics, materials and other key aircraft-related know-how and products, Japan has yet to integrate them into its own 21st century passenger aircraft with modern electronics and leading-edge technology.
The project by Mitsubishi Aircraft Corp. and Mitsubishi Heavy Industries is the successor to an unsuccessful attempt in the 1960s by Japan to break into the international market with the 64-seat turboprop YS-11. The aim this time is to secure a foothold in the lucrative but highly competitive commercial passenger jet market.
Mitsubishi says it hopes to win 20 percent of the global market for single-aisle, regional passenger jets.
It had been scheduled to make its first delivery to leading customer All Nippon Airways in the spring of 2017.
Earlier, the project suffered delays in deliveries of aircraft parts, about 70 percent of which are sourced from overseas.