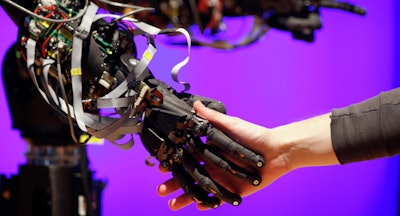 The U.S. is holding onto the human element in an international race to develop autonomous weapons.
During a Monday security forum, U.S. Deputy Defense Secretary Robert Work said, "We know that China is already investing heavily in robotics and autonomy and the Russian Chief of General Staff [Valery Vasilevich] Gerasimov recently said that the Russian military is preparing to fight on a roboticized battlefield."
Work also quoted Gerasimov as saying "In the near future, it is possible that a complete roboticized unit will be created capable of independently conducting military operations," as reported by Defense One. Those prototypes, according to Russian defense firm Uralvgonzavod, could be ready in less than two years.
The forum at the Center for New American Security dove into the importance of developing machine learning and artificial intelligence — a sentiment recently bolstered by $1 billion research startup OpenAI, co-chaired by Elon Musk.
But there is likely a distinct difference in the way the U.S. will use AI, as compared with Russia or China: "Authoritarian regimes who believe people are weaknesses … will naturally gravitate toward totally automated solutions," Work said. "We believe that the advantage we have as we start this competition is our people."
Do you think relying on human intelligence will be a strength or a weakness in the AI battle? Comment below or tweet @MNetKatie.