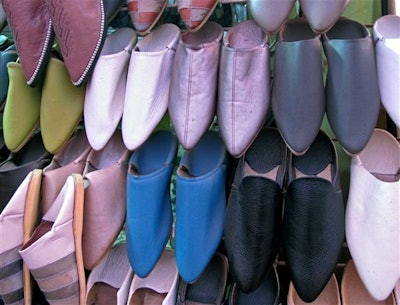 In this photo taken on Tuesday, July 31, 2012, shoemaker Mactar Gueye, whose grandfather once made slippers for local kings, demonstrates his technique in traditional handmade slippers in the village of Ngaye Mekhe in Senegal. (AP Photo/ Rukmini Callimachi)
NGAYE MEKHE, Senegal (AP) — It has taken generations for cobblers in this village to perfect the pointy-toed slippers once favored by local kings, and now considered an indispensable fashion accessory of well-dressed Senegalese men.
It only took months for the Chinese to copy and mass produce the local design, making them out of plastic instead of leather and selling them for a quarter of the price.
The Senegalese government has so far not regulated the import of Chinese-made replicas of local crafts, so the most prominent shoemakers of Ngaye Mekhe have come up with their own retaliation: They are refusing to sell their slippers to Chinese visitors.
"If I see a Chinese person, I put my hand up like this," said Mactar Gueye, his palm open, in the universal gesture for stop. "It's not that I'm afraid of them. I just won't sell to them."
In a veiled swipe at China's role in Africa, U.S. Secretary of State Hillary Rodham Clinton told a university audience in Senegal on Wednesday that the U.S. will tie investment to human rights and sustainable development. Though she did not mention China by name, it's clear that Africans are being asked to ponder their relationship with China, which recently became the continent's main trading partner.
Trade between the two sides hit a record $166 billion last year, a threefold increase since 2006, while direct investment is $14.7 billion, Chinese Commerce Minister Chen Deming said earlier this month. In almost every nation on the continent, China has undertaken major public works projects from the presidential palace in Guinea, to a $100 million hydroelectric dam in Gabon, to paving close to 140 miles (220 kilometers) of roads in Congo.
But the investment usually comes with strings attached, with infrastructure traded for access to Africa's vast mineral wealth as well as its marketplaces.
It's been an especially raw deal for the continent's dwindling artisans — not just its slipper makers but also the weavers of Ghana's ceremonial kente cloth, as well as the dyers of the vibrant wax prints worn by West African women, which have been copied and sold for less by China.
Brothers Mactar and Moussa Gueye, whose grandfather made the slippers worn by the kings of the local Cayor kingdom, said their first encounter with China was at a trade fair in Senegal's capital, Dakar, in 1998. A Chinese trader approached their stand and admired their shoes, returning several times to look though never buying anything, said Mactar Gueye.
Not long after, a group of Chinese buyers traveled to Ngaye Mekhe. The town, with a population of 25,000, is often called Senegal's "shoe capital" because the shoemakers here display their slippers on racks on either side of National Highway No. 1.
"They told me they were interested in buying our product. They lied. By the end of the year, the market was flooded with my design — only made in plastic by the Chinese," said 46-year-old Mactar Gueye.
If the slippers made in this Senegalese town sell for no less than $20, the Chinese replicas sell for $4. And if it takes a master craftsman here around a day to sew one of his creations, the Chinese can make them by the thousands in factories in Asia, sending them in containers to Senegal's port.
"Our government should have protected us," says the eldest of the three brothers, 53-year-old Moussa Gueye. "The knockoffs, they come in through the port, right? So why don't our authorities control what comes in?
"What bothers me is these are people who never buy anything here, they only come to sell," he says. Then he adds: "I take that back. They never buy anything that is above ground," he said. "Only what is under our soil."
In a speech on relations with Africa earlier this month, Chinese Vice Foreign Minister Zhai Jun hit back at critics of China's growing influence in Africa and denied that China is practicing a new form of colonialism, saying China's economic backing is giving African countries options they never had under a Western-led world order.
During her speech in Dakar, Clinton never mentioned China by name, saying the United States is committed to "a model of sustainable partnership that adds value, rather than extracts it" from Africa, language that many interpret as a jab at China's infrastructure-for-minerals model of investment. For the continent's craftsmen, China's ever-growing footprint has been hard to battle.
At the HLM market in Dakar, women weave through the stalls displaying the latest African prints — except that almost none of them is made in Africa anymore.
In this photo taken on Tuesday, July 31, 2012 handmade slippers are on display for sale in the village of Ngaye Mekhe in Senegal. (AP Photo/ Rukmini Callimachi)
Oumar Thiam, the accountant of a bustling store, has a Yahoo inbox dotted with emails from vendors whose names appear in Mandarin characters. His shop has only ever sold Chinese knockoffs of African waxprint fabrics.
"They are very similar to the original. If there's a difference, it's in the quality, but it's so much cheaper," he said.
Africa expert Peter Pham says that just in northern Nigeria, a quarter-of-a-million jobs have been lost in the textile industry.
"Certainly these cheaper products make it affordable for more people, but at the same time, it has eviscerated the manufacturing sector in Africa," says Pham, who is the director of the Africa Center at the Washington-based Atlantic Council. "They can't beat the price of the Chinese knockoffs."
Back in Ngaye Mekhe, the workshop of the Gueye brothers is still operating at full tilt, despite the onslaught of fake slippers. The brothers made their first slippers at the age of 10, learning from their grandfather.
Since then, their shoes have been worn by a Senegalese president and their client list reads like a Who's Who of the country's ruling elite. They have managed to stay in business, because the upper crust of Senegalese society appreciates the difference in quality, and is willing to spend extra for their double-lined, soft-leather shoes, mounted on high-end rubber and ranging in color from cherry red to sable gray.
The pointy-toed slippers are typically worn by Senegalese men on special occasions, like baptisms or weddings. They are also the footwear of choice on Fridays, when men don flowing robes and head to the mosque, leaving the slippers in long rows on the curb outside.
The toll on the roughly 1,500 other shoemakers here has been hard to weather, and many artisans say they are struggling to pass on the craft to their sons, who no longer see a future in it. Besides slippers, they have diversified and are now also making sandals as well as loafers. The shoemakers sit on the side of National Highway No. 1, next to their pearly-white and ruby-red creations that grace their outdoor racks.
Besides not selling to the Chinese, the Gueye brothers have another tactic. The copied shoes have soles that come off after a few months.
"The best part is people then bring me these shoes, the Chinese shoes! And ask me to fix them," scoffs Mactar Gueye. "My rule is I don't let the Chinese buy my shoes. And I won't fix any Chinese babooshes," he says, using the local word for slippers. "This is about our survival."
___
Associated Press writers Krista Larson in Dakar, Senegal; Saleh Mwanamilongo in Kinshasa, Congo; and Yves Laurent Goma in Libreville, Gabon contributed this report.