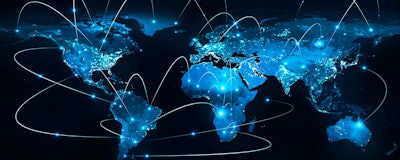 Taking a manufacturing business from a national to an international stage is no easy feat. It takes a lot of work to win over the trust and credibility of a new target audience. But if done properly, any business can reap the rewards.
Globalization is something that should be part of every manufacturer's long-term objectives. The barriers to doing business globally are coming down and being able to digitize a business is easier and more accessible than it ever has been before. This goes hand in hand with the rise of the worldwide e-commerce market. Shopify's Statistics and International Growth Trends report reveals that global retail e-commerce sales will top $4.5 trillion by 2021. E-commerce has revolutionized the way B2B buyers shop. Gone are the days of sifting through catalogues and directories to find products before drafting in the help of a salesman to finish the transaction. Nowadays, B2B buyers can head straight to the Internet to get exactly what they want.
Scaling a manufacturing business has its challenges. There's a lot to think about, from complying with legislation to adjusting to different cultures — and everything else in between. But there are things that can be done to make the journey to globalization that little bit smoother.
PIM — A Single Source of Truth for Product Information
Forrester claimed that PIM (Product Information Management) is a cornerstone of your digital business. Entering new territories is tough. But it's even tougher for manufacturers that don't have control of the data about products they want to sell.
PIM systems act as live information hubs, enabling companies to manage and store all the data they need to be able to sell and market their products. A PIM system provides valuable insight into the likes of customer preferences and consumer trends, allowing any manufacturer with global aspirations to use this data not only to spot new opportunities in the market, but to tailor and personalize campaigns to what it knows will appeal to its new target audience.
An effective PIM system makes for a more efficient back end operation, while also helping to optimize a company's digital supply chain, increase business intelligence and deliver a more consistent, international customer experience.
As a "single source of truth" for product information, the critical information held within a PIM can boost a manufacturer's likelihood of success when targeting new foreign markets.
Go Global. Go Local.
When entering new markets, localization is king. Research has shown that most online buyers won't purchase from a site that's not in their own language or currency. According to Shopify's 2017 'Global E-commerce and International Growth Trends' report, 59 percent of people rarely or never buy from English-only websites, 67 percent prefer navigation and content in their own language, and 75 percent want to buy products in their native language.
A high-quality, professional website in the local language with the correct grammar and spelling goes a long way to establishing trust, creating familiarity and increasing engagement. A poorly translated website sees customers automatically deem a company as unprofessional or, worse, untrustworthy.
Investing in translation services that work with native speakers or with high-quality translation programs helps to ensure the job is done properly. Advances in Machine Translation and Neural Machine Translation offer manufacturers with large catalogues the opportunity for a step change in how much they can translate, how quickly they can do it, and the associated cost. Machine Translation not only improves the overall consistency of global content, but also reduces the time to market of new products by 75 percent and reduces the translation per word cost by over 50 percent. Though useful, tools like Google Translate provide literal translations that can be prone to error. If a manufacturer wants to take full advantage of global opportunities, it has to be able to communicate with its audience properly.
Localization isn't just about ensuring the proper and professional translation of content; it's also about creating and tailoring specific content to your new target audience. What works in one country or culture won't necessarily work in another. Any business looking to tap into new markets must be flexible to create content that fits with different cultural expectations.
Going local also means important things like payment preferences should be considered. The checkout is where the majority of buyers abandon purchases. Why? Largely because the buyer's preferred method of payment isn't being used or because they don't trust that their payment will be handled securely.
By making the effort to go native, a manufacturer can prove to its buyers that they are a top priority. Not second best.
Find the Right B2B E-Commerce Platform for You
Custom-built websites can be fantastic. But beyond a certain point, most manufacturers with dreams of going global will need to turn to an e-commerce platform if they want to get serious about their growth plans. For any company looking to scale internationally, choosing the right e-commerce platform should play a defining role in the growth strategy.
The right e-commerce platform can bring major advantages to manufacturing businesses, including an increase in sales and the chance to raise awareness and promote its brand to a global market.
There's no 'one solution fits all' to finding the right e-commerce platform, so it's about finding a platform that fits with the needs of your company. It's vital that any manufacturing business looking to scale does its homework to make sure it understands which platform is best for it and why.
Choose the right platform and you'll reap the rewards. Choose the wrong one and it could be a very costly mistake.
Make the Most of the Marketplaces
Amazon, Alibaba and ebay dominate the global marketplace — and this isn't going to change any time soon. All three lead the field with extraordinary global reach and do so with enormous success. In 2018, Amazon's market cap topped a staggering $1 trillion.
Yet despite their dominance, global online marketplaces should be seen as an opportunity for manufacturers looking to scale internationally.
They offer a sound starting point for any manufacturing business to enter new markets and capitalize on the growing e-commerce opportunity. The infrastructure is already in place. There's the chance to get in front of more potential customers than ever before. And these marketplaces are globally recognized brands that buyers know, and more importantly, trust.
Marketplaces also offer companies a lot more than just a platform and an audience to sell their products to. Many offer genuine help and support for those looking to sell to an international market. Amazon, for example, has a Fulfillment By Amazon program designed to support companies concerned about their ability to fulfill orders by allowing them to store stock in its fulfillment centers and arrange for dispatch.
Make Sure There's Enough 'Ready Money' in the Bank
Going global isn't cheap. Every company must ensure it has enough capital in the bank to fully support a move into new markets. Taking a business international incurs costs from quite literally every angle, from staffing, taxes and marketing to e-commerce platforms and marketplaces. All of these, and more, require any company to ensure it has enough ready money in its accounts to fund the transition.
Selling internationally will introduce foreign transactions, so it's worthwhile researching international payment providers to find one that fits. Things to look out for include good exchange rates and transparency on transfer fees. It can be frustrating to lose income because of poor rates and high fees, especially at a time when capital is so important.
Keep That 'Global First' Mindset
Ensuring a strong internal culture is vital in achieving success when entering new markets. If a manufacturer wishes to succeed, it must show a willingness to change and a flexibility to adapt to meet the needs of its new target markets.
Instilling a positive 'global first' mindset throughout the organization will keep employees happy and motivation levels high — something that's absolutely key for any manufacturing business about to embark on the challenge of entering a new global market.
And finally, investing in global-mindset training among all employees — not just management — can be strategically important. It improves communication, it opens up new opportunities and it expands a company's growth potential. By ending domestic thinking, any manufacturing business can successfully go global.
Christian Arno is Founder and President at Lingo24.