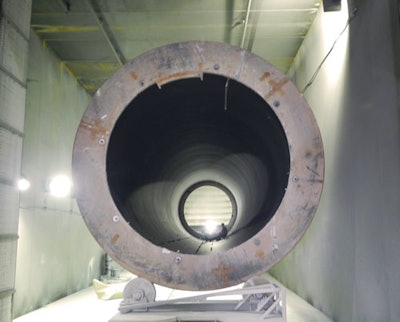 This article originally appeared in IMPO's June print issue.
In 2013, the French Canadian machining, fabrication and assembly company, Marmen Energy, made the move to the United States. After touring many states for several years, the company decided to set up shop in Brandon, South Dakota, just 20 minutes from Sioux Falls.
Marmen builds equipment for the global energy sector, and its Brandon facility is dedicated to wind tower production. In this facility, it's building exclusively for General Electric, a longstanding client.
According to Pierre-David Paquette, Executive Director of Marmen Energy, "There's only one secret if you want to start a wind tower shop — everything has to be right the first time. If it's not, each step after will suffer."
And for Marmen, that's a lot of steps. Massive steel plates arrive and are plasma cut and formed into a steel tube. The large rectangular sheet is cut into a banana shape (to achieve a conical end result) under water to prevent smoke and distortion from heat. Then, the cut sheets are prepared for welding.
Marmen uses a cold form process that utilizes only pneumatic power — not heat. It takes about 30 minutes to shape one segment that is then submerged arc welded together for the strongest closure. Each tower section will vary from 80-100 feet. The final product combines three segments and will stand 250 feet tall.
Once the fabrication is done, it's on to finishing. They grit blast the segments using tiny shards of steel grit instead of the more health-hazardous process of sandblasting. Next is zinc metallization — essentially a form of galvanization. Zinc wire is melted and thrown at the section to make sure the flanges are well protected against rust. And finally, it's painted and ready for internal assembly (ladders, cables and the like).
"This is all manually done. We don't have any robots. There's nothing like using humans to do such a good job," says Paquette. The only automation in the facility is used to cut the door in the tower, but everything else is done manually or by a machine operator. "The human implication in the product is constant throughout the different workstations."
Currently, a third of the workers at Marmen are welders. The rest are machine operators, blast operators, mechanical assembly workers and internal assembly workers. Finding enough workers to staff this operation has been the biggest challenge for the company. Right now, there are still workers that have temporarily transferred from their Canadian operations. "Our intention is to have an entire staff of U.S. workers by the end of the year," says Paquette.
Most of the towers that are made at this facility will stay in the Midwest, and all of them will stay in the United States. Marmen's goal is to build 400 wind towers next year, but that is dependent on hiring enough workers that they can be properly trained in time. In an area with only four percent unemployment, this could be a daunting task.
"In 2008, we visited seven states and have seen many cities looking for locations, and honestly none were as good as Brandon and Sioux Falls," says Paquette. For him, the amenities, atmosphere, nearby airport and eager workforce make this area a perfect fit.
"We're here for the long haul, not for one project," he adds. Marmen will find a new product if its wind tower project ends, and Paquette isn't concerned about business prospects. "You get the quality that you pay for, and our quality is what sets us apart."
If you have comments or questions about this article, or would like to be featured in an upcoming article, please contact me at

[email protected]

or on Twitter at @TalesFromTia.