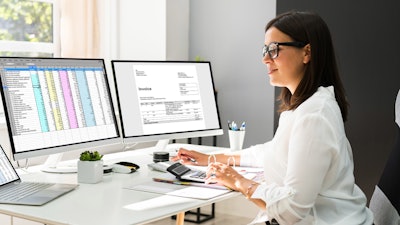 InfoMoksha
Many CFOs and controllers likely dread the month-end close. While reconciling a company's financials each month is essential to not only maintain accurate records but also to ensure a company's future goals remain feasible, most close processes are inefficient and tedious, taking time away from other essential financial duties.
The many activities that must be completed during month-end close, such as reviewing the company's balance sheet, intercompany trades, journal entries and other documents (like bank statements, income and expenses) and reconciling them are essential to documenting a business's financial activities but can be time consuming when done manually.
The data from all transactions across different categories on a business's chart of accounts are tracked in a company's subledgers, including data from accounts receivable, payable transactions, inventory, fixed assets and purchase orders. All these day-to-day transactions are entered in the subledger, summarized and transferred into the general ledger. After this, the balance sheet and income statement can be run from the general ledger.
The rest of the information required to complete financial reconciliation is often located in separate locations, including in multiple electronic spreadsheets. There are also lists of actions that must be performed at the end of the month before the information is entered in the general ledger, which has its own set of actions to close the month.
Large corporations often manage these tasks with spreadsheets like Microsoft Excel and must chase responsible parties to confirm every item is completed. For multinational corporations, the task is even more difficult.
In addition, files needed to complete the process may be stored on individual users' desktops or on shared drives and coordination may take place over text chat and email. This makes it incredibly difficult to locate all the data needed to complete the closing process, which results in added time, expense and inefficiency.
What if the entire month-end close process could be simplified using a coordinated task management system to save both company time and resources? What would the close look like if all the information needed to complete it was centrally located, easily searchable and integrated with the corporate ERP?
This automation is the chief aim of a new software for the industry, PowerClose. PowerClose is a software application in both cloud-based (including Oracle Cloud) and on-premise models that is designed to orchestrate and manage the start-to-end financial and subledger close processes across the enterprise. The software integrates fully with a company's ERP system to automate and streamline the work activities associated with the close cycle and offers a workflow-based platform to ensure close cycle tasks are properly executed and reported.
Ultimately, automating the process saves corporate accounting teams time and money, particularly at audit time, by simplifying how close cycle results are accessed and keeping essential functions such as launching the close process, tracking progress and viewing reports all in one central portal.
Bringing Accounting Process into the Future with PowerClose
Keeping data in separate places and spending time gathering information at the end of each month has been the norm for years, but with today's technological tools that simplify processes and organize data for ease of use, automation is sure to become the new normal.
Managing all the activities that need to be performed in each accounting subledger at the end of the month to close that period can be a headache when this data is not organized. Software such as PowerClose can both manage this activity data and automatically transfer all necessary data to the general ledger while also tracking the additional tasks that need to be completed in the general ledger. It is also fully integrated with the ERP system, which means tasks that are done within the ERP system are immediately recorded in PowerClose and the data is stored for later reference, including during audit time.
Software can help save time and energy, which leaves users free to pursue other essential company tasks. For example, PowerClose is the only software with an automated close feature, allowing users to schedule close activities. It allows for automatic closing of a period in the customer's ERP system upon completion of certain activities, such as closing Purchasing and Inventory periods upon confirmation of final shipment. This means fewer checks and balances need to be done manually, which cuts down on employee working hours.
Programs like this can also contribute to significant savings in audit and preparation and support costs thanks to built-in controls that prevent the deletion or editing of ERP reports, provide automated validation of period close, cement the definition of dependencies including intercompany dependencies and outline user definable rules to check for items such as missing journals. Tools that allow users to mark their comments and questions for response and closure and to track related discussions in real time also ensure a smooth audit review process and company compliance.
Tracking and following up on financial close activities can also be quite time consuming, particularly for the CFO or Controller who oversees a large, global enterprise. To mitigate this, PowerClose offers users a bird's-eye view of all essential tasks. A dashboard that allows the user to monitor all activity in one place eliminates the need for constant tracking of tasks and makes it easy to see which tasks have yet to be completed and require a follow-up. An executive dashboard also offers the ability to develop financial ratios such as calculating free cash flow for all the entities or calculating the return on assets and return on investment.
End of the month duties can be simplified using automation. Companies can save time and money when the data needed to complete the end of month close is easily searchable and accessible. A fully integrated ERP ensures tasks are accounted for, data is where it should be and nothing is overlooked, which also makes audits easy and less stressful and gives CFOs and Controllers more time to support their business.