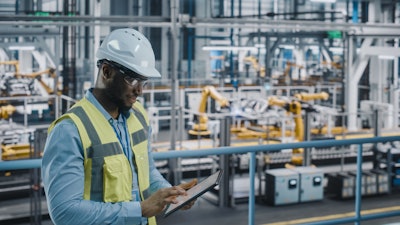 iStock
In a challenging global market, increasing productivity and quality has become paramount to manufacturers. Today's customers value speed of delivery over savings, and they are ready to pay for convenience. As a result, companies must raise productivity and efficiency to stay competitive.
Productivity refers to the company's output in a specific period of time. The most obvious solution is improving efficiency and speed of work. However, one can't simply demand employees to work faster and take smaller breaks which could negatively impact workplace culture and product quality.
The keys to improving productivity at your workplace lie in creating an ideal workplace environment and having systems in place that monitor employee productivity and performance. This system ensures fairness and accountability. By measuring your employees against established standards and recording or evaluating their performance in a system, you create a more transparent work environment.
A company can create a culture that values high performance and adherence to high standards on a daily basis. The right system can also free up managers to do more high-value activities versus micromanaging employees.
Use Software Automations To Improve Workforce Skills
If you are investing time and effort in hiring and training the most talented and skilled workpeople, it is also important to utilize their time as efficiently as possible.
For instance, you do not want your skilled employees to spend a substantial amount of time keying data at terminals communicating with stakeholders, filling inventory requests and/or searching for materials in the warehouse. With innovative manufacturing ERP software, you can eliminate all these tasks and prevent your talent from being wasted on such repetitive tasks. Instead, your employees can work on more important issues that add value to the company.
In most organizations, there are a number of small workplace systems that have evolved organically. This often requires skilled workers to use multiple systems during the day. Unfortunately, this often leads to multiple data collection points, incomplete data or systems that don't necessarily talk to each other. This can result in your skilled workers' wasted time rekeying data or attempting to make decisions based on incomplete reporting.
Companies have an excellent opportunity to develop a holistic system that facilitates efficient communication between systems. Departments will improve productivity, analytics and accountability. Implementing an integrated company-wide system will keep everyone updated about the real time taken to finish a job, the quality of the product and delivery times. This will help managers keep everyone accountable.
What if your company doesn't have the budget for a massive uber system? A great place to start is with one process your skilled workers spent a lot of time on: data collection. By speeding and enhancing data collection at your organization, you can:
Save skilled workers' time
Dramatically improve data accuracy
Speed up and improve reporting to identify material shortages or potential problems in your processes.
What Tools Can You Use for Better Data Collection?
There are four manufacturing apps that we have identified to make data collection more accurate and faster at your organization. These include a 5S Audit app, Gemba Walk app, an equipment inspection app and a non-conformance report app.
Productivity Tool 1: 5S Audit App
The 5S principles that underlie the 5S Audit app include assessing workplaces to maximize work efficiency, worker safety and cut any unnecessary waste. The 5S manufacturing process was developed by Toyota to improve its manufacturing methods and keep workspaces organized. The name 5S comes from five Japanese principles that focus on keeping workspaces clean and organized: "Seiri (sort), seiton (straighten), seiso (shine), seiketsu (standardize) and shitsuke (sustain)."
The 5S Audit app is an excellent tool to facilitate continuous development throughout the manufacturing process. While conventionally done on paper, a digital 5S Audit streamlines the data collection process and captures data more accurately. A smartphone app can incorporate more detailed explanations and images in a manner that cannot be captured by paper forms. The use of the 5S Audit app is a foundational part of the lean manufacturing process as it organizes the workspace and improves operational efficiency.
Productivity Tool 2: Gemba Walk
Gemba walk is a Japanese term for a management principle that is a part of lean manufacturing and six sigma practices. It refers to walking through your manufacturing plant and assessing how your processes operate, how your team is working and recording how team members and equipment works. Business leaders who engage in regular Gemba Walk find continuous improvement in productivity.
Digitizing Gemba walks drastically reduces the time required to observe processes and teams. Digital Gemba Walk also collects richer data faster and more accurately. In terms of photos, videos, audio interviews, location, time and employee signatures. For instance, Alpha's free Gemba Walk app collects photos, audio interviews, location, time, employee signatures and other information that enhance data quality.
Productivity Tool 3: Equipment Inspection App
It is vital to have your equipment functioning properly on the factory floor. Inspectors often work in harsh and highly demanding environments that make it hard to report every detail in a timely manner.
This equipment inspection app speeds up equipment evaluation and inspection while capturing more equipment information. The app can kick off evaluations quickly with a bar code scan that pulls and auto-fills details about the equipment, including maintenance history or required maintenance. In addition to pass/fail checklists, the app can also capture photos of the equipment and present proper torque and other essential measurements. The app can also look up equipment information or manuals and perform calculations for the user to determine if readings fall within safe guidelines. The app automatically collects location, time and date information and allows inspectors to sign off on the inspection directly from their mobile phones.
Productivity Tool 4: Non-Conformance App
As a part of their quality-check efforts, manufacturing companies use non-conformance reports. These reports identify any products and parts that do not comply with the required specifications in the production process. Nonconformance checks are pertinent to maintaining high-quality products, manufacturing processes, safety standards and workmanship. Non-conformance reports explain why and how a specific product or process failed to meet the compliance standards and what is required to fix the problem. Having strict non-compliance reporting allows manufacturers to see how their processes are improving (or going down) in quality.
This digital non-conformance reporting app provides detailed observations. Inspectors can take images and visually mark up where the product or paint is defective. The app also speeds inspections by automatically populating the digital form with time and date stamps or other information about the production line or quality parameters. Fail/Pass checklists make inspections flow quickly. At the end of an inspection, the inspector can include his or her digital signature, then immediately make the information available via email or workflow to trigger a fix or update inventory.
Productivity is essential to all manufacturers today due to changing consumer demands and needs. Improving productivity not only includes improving the workplace environment/culture but also implementing specific systems/applications to enhance workers' productivity and overall job satisfaction. The above-mentioned productivity tools can serve as the first steps to improving the productivity of your manufacturing processes and workers.
---
Amy Groden-Morrison has served more than 15 years in marketing communications leadership roles at companies such as TIBCO Software, RSA Security and Ziff-Davis. Her past accomplishments include establishing the first co-branded technology program with CNN, launching an events company on the NYSE, rebranding a NASDAQ-listed company amid a crisis and positioning and marketing a Boston-area startup for successful acquisition. Currently, she is the VP of Marketing and Sales Operation for Alpha Software.