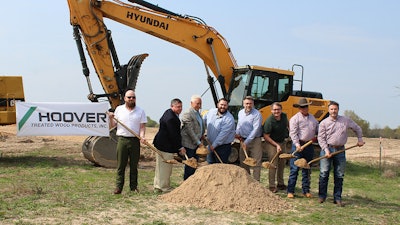 Hoover
Hoover Treated Wood Products yesterday broke ground on a new $9M, state-of-the-art wood treating facility expected to open in Fairfield, Texas in late 2023.
The plant will treat fire-retardant wood products to be used in new construction buildings throughout the region.
The product, which is used to construct framing, sheathing for roofs and walls, will primarily be used in new multifamily and commercial construction.
Hoover, the largest manufacturer of fire-retardant wood products in the U.S., plans to hire at least 50 employees in the first five years of operation.
The Fairfield Economic Development Corporation aided with a land grant at the Fairfield Industrial Park South.