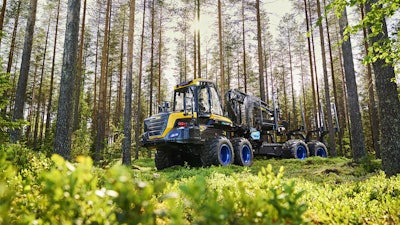 Ponsse
Ponsse and Epec are introducing the PONSSE EV1, an electric forest machine technology concept.
While the forest machine will be commercially available later, Epec's technology can already be used in electric or hybrid-electric commercial vehicles and non-road mobile machines. Ponsse's technological concept is a peek into the future, paving the way for technological development and sustainable harvesting solutions.
The PONSSE EV1 concept has been developed for forwarders with a 15-ton load-carrying capacity, the most popular Ponsse forwarder size category. The concept machine features a fully electric powertrain, as well as Epec's power distribution unit and hybrid control unit. The machine's powertrain operates fully with battery energy. Batteries are charged using a Range Extender, which is a combustion engine at this stage of development. Testing and development are advancing continuously. This technology provides significant improvements in fuel economy in this size category.
The PONSSE EV1 features Epec Flow, Epec's electromobility system solution. The solution is based on the Epec Flow Power Distribution Unit (PDU), to which electric motors, batteries and various devices can be connected. The PDU's integrated safety solutions enable effective manufacturing and maintenance of the machines, as well as their operations in demanding conditions. The Epec Flow Hybrid Control Unit (HCU) controls the electric powertrain and includes software developed through simulations, enabling optimal energy consumption, productivity and usability.