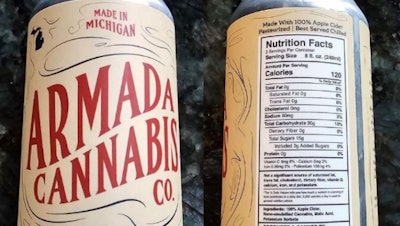 Cannabis Regulatory Agency
VBJG Mt. Clemens – in coordination with Michigan's Cannabis Regulatory Agency (CRA) – is voluntarily recalling a limited number of marijuana-infused beverages.
A single batch of Armada Cannabis Co. Cannabis Apple Cider (20mg) is being recalled because the products were not compliantly produced and there have been reports of cans swelling and bursting. This is attributable to the lack of a necessary ingredient to ensure shelf stability. The cans were sold between the dates of 10/11/23 – 11/1/23 and have an expiration date of 01/02/2024.
According to MLive, the recall impacts nearly 15,000 cans. The full list can be viewed here.
As these products are not considered shelf-stable and could expand or possibly burst, consumers who have these products in their possession should dispose of them in an outdoor receptacle. Do not return them to the marijuana sales location. The above sales locations must display this recall notice on the sales floor, visible to all consumers, for 30 days from the date of this notice.