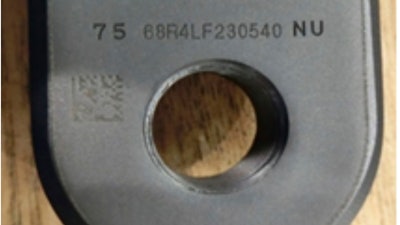 U.S. Consumer Product Safety Commission via AP
NEW YORK (AP) — Cycling company Shimano is recalling some 760,000 bike cranksets in the U.S. and Canada due to a crash hazard that has resulted in several reported injuries.
According to a Thursday notice from the U.S. Consumer Product Safety Commission, the now-recalled crank parts can separate and break, risking crashes. More than 4,500 incidents of the cranksets separating and six injuries have been reported to date — including bone fractures, joint displacement and lacerations.
The recall impacts Shimano Ultegra FC-6800, Dura-Ace FC-9000, Ultegra FC-R8000, Dura-Ace FC-R9100 and FC-R9100P 11-Speed Bonded Hollowtech Road Cranksets that were manufactured in Japan prior to July 2019.
The cranksets were sold both individually and on bicycles sold by other companies, including Trek and Specialized, regulators said.
Consumers can identify the recalled crank parts by their production date and two-letter codes. In the U.S., where about 680,000 cranksets are under recall, the products were sold at stores nationwide between January 2012 and August of this year.
Those who own the recalled cranksets are urged to stop using them immediately and contact an authorized Shimano dealer for an inspection, the CPSC said. Only cranksets that show signs of bonding separation or delamination will be applicable for a free replacement and installation.
Impacted consumers can take their bikes to participating retailers starting Oct. 1, Shimano said on its website.
"Shimano will replace any cranks that fail the inspection process," the company wrote in a Thursday announcement. "There is no need for further action for cranks that pass the inspection process."