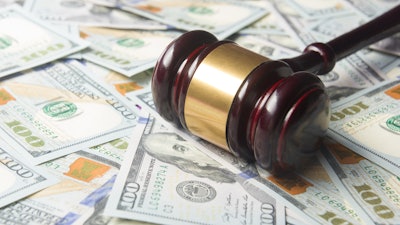 iStock
The independent Occupational Safety and Health Review Commission has affirmed citations issued by OSHA to a global auto parts supplier after the 2016 death of a 20-year-old machine operator at an Alabama manufacturing facility.
The decision comes after Joon LLC, operating as AJIN USA, contested OSHA's citations following an investigation of how an employee at its Cusseta facility suffered fatal crushing injuries in June 2016 in a robotic machine.
Inspectors found that the machine operator and three co-workers entered a robotic cell on the assembly line to clear a sensor fault when a robot inside the cell restarted abruptly, crushing a young woman inside.
Its inspection led OSHA to cite AJIN USA for 51 safety violations, including 48 willful violations.
On Feb. 10, 2023, an administrative law judge upheld the majority of the violations that OSHA issued. As a result, AJIN USA will pay more than $1.3 million in penalties to address the violations.
In a September 2020 criminal case, the U.S. District Court for the Middle District of Alabama, Eastern Division, ordered AJIN USA to pay a $500,000 fine and $1 million in restitution to the deceased woman's estate after the company pled guilty to a charge of a willful violation of an OSHA standard.
"Failing to lock out equipment causes far too many serious injuries and deaths," explained OSHA Regional Administrator Kurt Petermeyer in Atlanta. "In this case, a young woman lost her life because her employer took shortcuts to minimize downtime and maintain production."
Based in Korea, AJIN USA is a global supplier of parts to Hyundai and Kia with manufacturing plants in the U.S., South Korea, China and Vietnam. At the time of the 2016 incident, the manufacturer employed approximately 700 workers at the Cusseta facility.