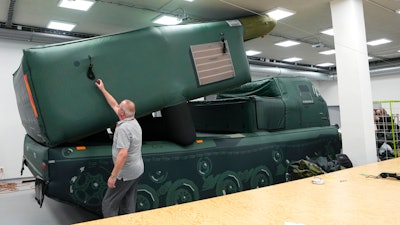 AP Photo/Petr David Josek
PRAGUE (AP) — The war in Ukraine has created a surge in demand for weapons — and, apparently, also for inflatable fake armaments that can be deployed as decoys.
A Czech company, Inflatech, is producing more than 30 different inflatable military decoys ranging from tanks and armored vehicles to aircraft and howitzers. They also offer decoy versions of U.S.-made HIMARS rocket systems, that were among the billions of dollars in Western military aid that has helped Ukraine's war effort since Russia launched its invasion just over a year ago.
Inflatech Chief Executive Vojtech Fresser won't say if his decoys are used by Ukrainian forces battling Russian invaders, but he said Monday that his business was up by more than 30% last year. He expects growth to keep rising in double figures for at least another three to five years.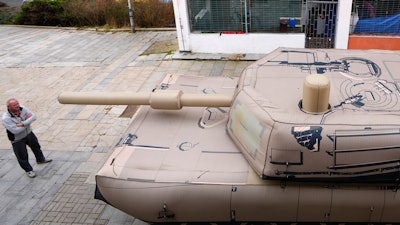 While he won't directly comment on support for Ukraine, he said: "I can imagine that if we want to support a partner country which is in trouble, we would send them inflatable decoys. Or it already has them, and if not, it will have them, for sure."
Inflatech, based in the northern town of Decin, currently produces up to 50 decoys a month. They are sold to a number of unspecified countries, and all such exports have to be approved by the government of the NATO member.
The company uses light materials, such as artificial silk, so the total weight of a fake tank is up to 100 kilograms. It takes four soldiers to operate a decoy, with 10 minutes being enough to unwrap and inflate a fake piece of military hardware.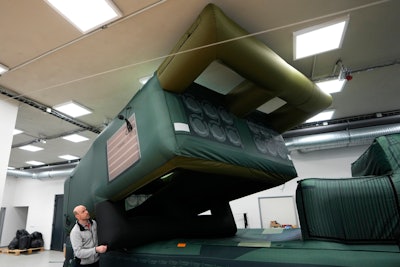 The decoys can contribute to victory by fooling enemy forces. The trick is to deceive cameras, thermo-cameras and radars to make them believe they have pinpointed a valuable target and use expensive missiles to destroy it.
"If I force the enemy to destroy a thing of mine by using something which is four times, but in reality it could be 20 times more expensive, than I'm the winner economically," Fresser said.
The decoys that originally were developed for training purposes can cost up to $100,000 each.
Fresser said he would prefer to make toys for kids.
"But first, we have to secure a safe world for them. Then, we'll hopefully return to civilian projects."