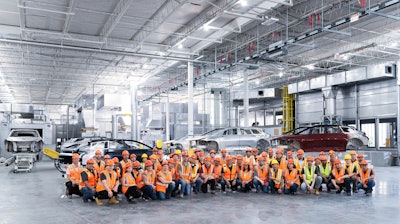 Faraday Future
Faraday Future has provided further progress updates at its North American manufacturing facility and unveiled the official name of the production plant located in Hanford, California, which will now be identified as 'FF ieFactory California.'
This facility will lead the production of the TechLuxury FF 91 EV, arriving later this year.
"We continue to make exceptional progress on construction and development in our Hanford manufacturing plant, and we are getting closer to our start of production (SOP) later this year," said Dr. Carsten Breitfeld, Global CEO of Faraday Future. "Main body lines, e-coat systems and paint ovens and conveyance are all in place for start of production and we continue to build production-intent vehicles that will be used for further testing and validation."
FF is using an electrocoating process in its paint shop which will help ensure noticeably superior paint finish and durability. The team at the 'FF ieFactory California' is in the final stages of commissioning the tanks used in this process.
In the Body Shop, FF is nearing the accomplishment of the 6th milestone, which is the completion of construction and equipment installation in the final vehicle manufacturing areas. Robots in the Body Shop are undergoing final commissioning and validation to support production activity. This area, like the balance of the factory, focuses on quality and precision manufacturing processes and will help to ensure the FF 91 is built to the highest standards. This facility will adopt a customized, high-quality, luxury-focused production setup for the flagship FF 91 EV.
'FF ieFactory California' is about more than just making an EV product. FF is creating a larger "intelligent ecosystem," hence the "ie" in the name. While this plant is very meaningful to FF, it's equally as meaningful to the Hanford community. Faraday Future will hire upwards of 350 new employees at this facility as FF ramps up production.