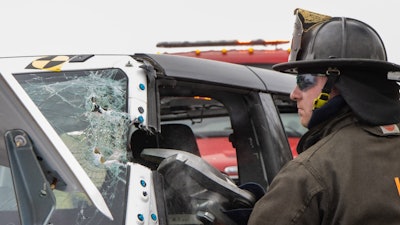 General Motors
GM's latest EV First Responder Training program will focus primarily on personnel in fire services, providing instruction and sharing of best practices on how to most effectively support emergency situations involving electric vehicles.
The company said the program, though directly focused on responders, also benefits drivers involved in incidents, where every second matters, and is a continuation of GM-led education efforts that began more than a decade ago. With plans to have the capacity to build more than 1 million EVs by 2025, GM continues to ramp investments in the ecosystem that will enable mass adoption and support those who play a vital role in the responsible deployment of electrified technology.
"Our primary goal is to provide key information directly to first and second responders," said Joe McLaine, GM global product safety and systems engineer, and leader of the training effort. "This training offers unique material and hands-on experiences that can help increase responders' awareness of procedures to help maintain safety while interacting with EVs during the performance of their duties."
GM's EV First Responder Training effort is an education and outreach program designed to offer emergency responders key information about battery electric vehicle technology, dispel misconceptions and share important industry best practices for handling electric and electrified (hybrid) vehicles safely in multiple situations. For example, many people believe water is dangerous around an EV battery, when in fact a large volume of water is the recommended method to suppress a lithium-ion battery fire. This program will be divided into both live presentations and other training formats, including combinations of expert presentations, videos, animations and virtual demonstrations.
"The best way for the public and private vehicle fleet owners to rapidly adopt EVs is to train firefighters and emergency responders on how to handle incidents involving battery powered vehicles," said Andrew Klock, senior manager of education and development at the National Fire Protection Association. "The fire service has had more than 100 years to gain the knowledge needed to respond to internal combustion engine fires, and it is critical that they are now educated on EV safety."
The NFPA has led its own education efforts around EVs with 300,000 first responders but estimates there are more than 800,000 additional members of the community that need further training.
Training for the first and second responders will include materials and curriculum developed with select key active members of public safety communities, delivered over a four-hour block of instruction, with up to two sessions per day in major markets, across multiple venues such as fire houses, training academies, regional learning centers or dealerships. The coursework will be accounted for by a Certificate of Educational Achievement, and trainees will need to score higher than 70% on the check on learning assessment. After completing the hands-on training, attendees will receive a Certificate of Completed Training offered through the Illinois Fire Service Institute, the only nonprofit, state-funded fire safety organization in the U.S. The IFSI is proud to partner with GM on this initiative.
"The GM EV First Responder Training initiative is a great example of important and relevant information becoming accessible to first responders," said Chief Jim Keiken, director of Illinois Fire Service Institute. "This training directly connects to the fulfillment of the IFSI mission: 'Helping Firefighters Do Their Work Through Training, Education, Information, And Research.'"