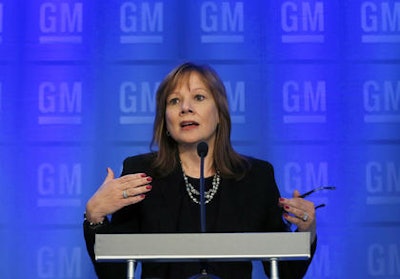 DETROIT (AP) — General Motors CEO Mary Barra will be questioned this fall by lawyers suing GM over its defective ignition switches.
Barra is one of 35 current and former GM employees who will be questioned, attorney Bob Hilliard said Thursday. The depositions begin May 6 with the questioning of GM customer experience chief Alicia Boler-Davis. Barra's deposition, scheduled for Oct. 8, would be the last.
Hilliard sued GM last July on behalf of people who were injured or killed in crashes allegedly caused by faulty ignition switches. A trial is scheduled for January 2016 in U.S. District Court in New York.
The switches could slip into the "off" position, disabling power steering and air bags. The lawsuit alleges GM knew about the defective switches as early as 2001 but didn't recall any cars until last year.
Barra told Congress she learned about the defective switches in December 2013, a month before GM began recalling 2.6 million affected vehicles.
GM has already admitted violating the law, paying a $35 million fine and agreeing to strict federal oversight.
It has also paid undisclosed settlements to the families of 67 people killed in crashes caused by the switches as part of a compensation fund overseen by Kenneth Feinberg. The fund has also compensated 113 people injured in crashes.
The plaintiffs represented by Hilliard are not part of that settlement process.
GM and its employees could also face separate criminal charges as a result of an ongoing Justice Department investigation.