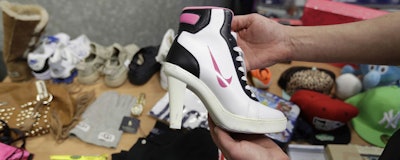 LONDON (AP) — In a warehouse at London's sprawling Heathrow Airport, a border officer pulls open a cardboard box he suspects contains contraband goods. Bingo — his instincts are rewarded.
The box is packed with beige and black sneakers that to the untrained eye look identical to the limited edition Adidas Yeezy Boost, designed by rap star Kanye West, which sold out within minutes of being released last year and now have a resale value many times their original retail price.
In the past five years, the Border Force, the policing command under Britain's Home Office charged with immigration and customs controls, has seized thousands of consignments at Heathrow alone, valued at around £100 million ($125 million), said Peter Herron, senior officer for specialist operations. "Anything a counterfeiter can counterfeit, they will."
Annual trade in fake products was worth $461 billion in 2013, around 2.5 percent of total global trade, according to Piotr Stryszowski, an economist with the Paris-based Organization for Economic Cooperation and Development. The money goes to organized crime, and helps fund terrorism and the trafficking of drugs, people, sex and wildlife, as well as the lavish lifestyles of its kingpins.
"It's the globalized illicit business of the 21st century," says Stryszowski, who laments it's not taken as seriously as other contraband, such as cocaine.
Consumers may see fakes as "fun" and feel clever to buy sunglasses or sneakers that look like the real thing but cost a fraction of the price.
The reality, however, is anything but fun for the workers, many of them children, who toil in appalling, often slave-like conditions in secret factories making fake products for gang bosses who, Stryszowski says, "have no ethics and no respect for the law."
It's this human cost that makes counterfeit goods one of the most insidiously dangerous criminal activities in the world today.
London-based intellectual property lawyer Mary Bagnall describes scenes of horror — children chained to sewing machines; people locked in underground factories in remote corners of China — that characterize an industry so lucrative yet so low-risk that some crime gangs are getting out of the drugs and people-trafficking businesses and into fakes.
"This makes more money for organized crime with less risk for them," she told The Associated Press, describing counterfeiting as part of a "massive global web" of criminality. "It's difficult to communicate to consumers why it is not a victimless crime."
"Consumers are used to the idea of fake handbags and even fashion counterfeits, (which) alone amount to some 2.6 billion pounds ($3.24 billion) worth of lost sales and I think an estimated 40,000 lost jobs annually; and that's just in one industry," she said.
The total annual cost to the European Union's fashion industry is 26 billion euros ($27.5 billion), she said.
Consumers can understand the perils of fake air bags for cars, or fake toys or electrical goods that "could explode in the face of a child," Bagnall said. But the fake goods industry goes much further than that.
"What consumers are probably less aware of is the danger of counterfeits in relation to other products — I'm talking now about pharmaceuticals, I'm talking about cosmetics," she said.
Ingredients found in fake cosmetics include chemicals that can cause disfigurement or worse. Medicines made on the cheap and outside regulation can cause serious health problems.
"We have tested cosmetics and what we've found is that they will be containing ingredients such as cadmium, arsenic, lead, to very dangerous levels. The worst one we found contained cyanide," said Matthew Cridland, trading standards manager for Newport, a city 200 kilometers (125 miles) northwest of London.
The vast majority of fakes, more than 81 percent, come from China and Hong Kong. The biggest victims are in the United States, Italy, France and Switzerland, and include designers and manufacturers of everything from high-end fashion clothing, footwear, jewelry and watches, to cosmetics, perfumes and medicines.
Britain is an important destination for counterfeiters, since its purchasing power is high and its consumers enjoy buying brand-name merchandise. Also, like many markets for fakes, the internet has seen illicit profits grow for organized crime while the risk of detection shrinks.
Matt Cope, head of Digital Technology Policy with Britain's Intellectual Property Office, suggests that undetected volumes of fake merchandise are on the rise.
"With the explosion of online shopping, everybody is very used to ordering from online platforms, and you can order direct from manufacturers, from source countries like China," he said. "It is harder to track a larger number of small parcels than a smaller number of large shipping containers."
Some internet sites clearly sell fake goods at a cheap rate and are easily targeted by trademark owners and their lawyers. Others offer fake goods at close to the legitimate retail price to dupe buyers into believing they are getting the real thing at a discount. Still others, Bagnall said, offer genuine products on a "grey market" that bypasses the brand owner to produce illegal profits.
Online marketplaces strive to keep fakes off their sites to protect their own brand integrity. EBay's global corporate affairs and communications manager Ryan Moore said the company works with "brand owners, retailers and law enforcement agencies to combat bad activity."
Governments, too, are working across borders to reduce, if not eliminate, the manufacture, distribution and sale of counterfeit goods, and to better inform consumers about the crime gangs, criminal operations and human misery it supports. The British government, for instance, stations a fake trade specialist at its Beijing embassy.
Nevertheless, reality prevails.
"It's a vast market and consumers always have an appetite for a bargain," said Cope. "Until they can easily identify whether those goods are genuine or not, it will be very difficult for them to make that choice."
Cope also says some people are going to buy fakes no matter what.
"It's something that will be very difficult to wipe out in its entirety, but we can make a dent," he said.