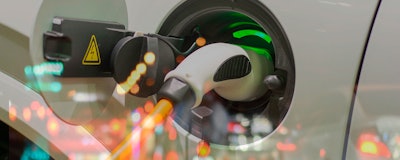 The rise of electric cars can be readily seen as more charging stations pop up in cities around the country. But despite the rising number of stations, battery life is still a concern for many electric vehicle owners and manufacturers.
The answer to their worries? Semiconductors.
Innovations in the semiconductor industry offer the potential for longer electric vehicle battery life. The commercialization of this technology could not only improve the logistical appeal of electric vehicles, it also provides a prime market opportunity for semiconductor manufacturers.
William (Bud) Crockett Jr., vice president of bonding wire at Tanaka Precious Metals talks about how innovations in the semiconductor industry are driving the next generation of electric vehicles.
Manufacturing Business Technology: Can you explain how semiconductors work within an electric car?
William Crockett Jr.: Semiconductors for example support touch-screen interactivity with the driver and passengers, as well as power electric vehicle (EV) batteries and components in the power train. These chips manufactured using precious metals are responsible for powering systems that store and apply updates to firmware, something that has played an increased role in the world of vehicles today.
Semiconductors allow EVs to become smarter and safer which is important when human lives are at stake. Many have internet connectivity that allows a vehicle manufacturer to dispatch updates to parts of the car's firmware, such as the brake system, without the customer even needing to opt in. The more digitally advanced the EV, the more semiconductors it requires. As features like autonomous driving and blind-spot detection become more widespread, the auto market will need access to more semiconductors. We at Tanaka believe that semiconductor IC components in EVs will be double that of conventional gas-powered cars by 2020.
Manufacturing Business Technology: Can you talk about the history of electric cars and semiconductors?
Crockett: For centuries, the global economy has been obsessed with gas-powered vehicles. With this in mind, it's surprising that the first cars invented in the early to mid-1800's were actually EVs. They were powered by non-rechargeable batteries, and while they didn't use semiconductors, their relays and switches are reminiscent of today's EVs. But the cars were far less scalable than the mass-produced Ford Model T which hit the market in 1908.
The hefty supply of the gas-powered cars plus the powerful influence of oil companies meant that EVs slipped into obscurity—until the 21st century when environmental concerns started rising. EVs suddenly saw popularity again because of their cleaner emissions and increased range. Each of the major auto manufacturers jumped on the bandwagon with ambitious goals for developing cleaner, smarter cars with high-tech features.
Manufacturing Business Technology: How will this change the electric vehicle industry? Will electric vehicles become more accessible to the common man because of it?
Crockett: The numbers are showing that EVs will become much more accessible: In 2018, cumulative EV sales hit 4 million, and experts predict the industry will sell 5 million EVs in 2019.
Pledges to invest in EVs from every top-tier automotive manufacturer is the true game changer for making EVs accessible to the masses. BMW, for example, wants EVs to be 15 to 25 percent of sales by 2025, Honda wants two-thirds of its sales by 2030 to be EVs, and Ford plans to debut 13 new EV models by 2020. Those goals are still in progress and will be delivered on in the upcoming years.
EVs that are currently on the market are still slowly but surely being adopted by the common consumer. The Toyota Prius was a big part of the initial adoption. Tesla has also been the subject of plenty of hype over the years for its EVs. While it started out as a luxury item, the company released a middle market vehicle—the Tesla Model 3—in mid-2017 which retailed at $49,000.
We're certainly still working on making the EV attractive to the average consumer. But I believe the fact that brands like Ford and Honda—cars that the middle-class traditionally gravitates towards—are investing in EVs means that they are the future.
Manufacturing Business Technology: How is the supposed semicon/electric vehicle boom going to affect the manufacturing and supply chain side of semicons?
Crockett: The average amount of semiconductor components within an EV is growing rapidly. As features like blind-spot sensors and backup cameras become standard on all cars, regardless if they're EVs or not, these features require semiconductors and increase the demand of the precious metals that make them possible. In fact, Gartner research shows that in 2017, the 10 biggest semiconductor vendors saw their collective revenues increase by 30 percent and made up 58 percent of the total market.
This obviously means the global semiconductor supply chain may be put under stress as this demand continues to grow, especially considering that cobalt is such a necessary element of making semiconductors. More than half of the world's cobalt comes from the the war-torn country of the Democratic Republic of Congo. For those who make it a priority to build EVs from conflict-free materials, this creates a problem. But the rest of the EV industry will likely also see periods of strain on the semiconductor supply, just in the effort to meet demand.
Manufacturing Business Technology: What can supply chain and manufacturing professionals in the semiconductor realm do to prepare for the scale up?
Crockett: Each of the top semiconductor companies has an arm devoted to automotive innovations, so supply chain and manufacturing professionals should be tapped into the developments coming out of those teams. For example, wireless communication (5G networks) is a key development for EVs since they require such in-depth connectivity for vehicle-system updates, emergency services communication and navigation assistance. This naturally will require a large and steady supply of semiconductors.
In addition to following companies' developments on the semiconductor and EV front, supply chain and manufacturing professionals should seek to take in any other new advancements of the field via conferences and industry publications. Having an ear to the ground on any sort of development—such as potential oncoming government regulations—means they're a step ahead in understanding how the supply and demand of valuable semiconductors will shift.