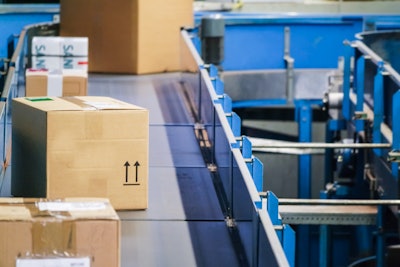 This article originally appeared in the January/February edition of IMPO Magazine. To view the digital version, click here.
Conveyors can be some of the most efficient material handling equipment in a plant, but it can also be very dangerous. According to the U.S. Bureau of Labor Statistics' Census of Fatal Occupational Injuries, the number of fatal work injuries for manufacturing increased by 9 percent between 2013 and 2014.
With the moving parts, maintenance requirements and other various elements of a conveyor system, there is undoubtedly a risk. However, conveyors prove to be beneficial and efficient to operations, so it is critical to ensure proper safety practices are in place while operating conveyors.
Implementing Safe Practices
Karl Seidel, marketing manager of Cablevey Conveyors, says safety should start from the very beginning, and there should be a schedule.
"Preventive maintenance schedules should come with each machine. Our safe practices come as part of our initial installation by our personnel and training of the operations/ maintenance staff," Seidel says. "Locating the person or people responsible for maintenance and review, from time of commissioning each machine, is critical, as once a new machine is installed it becomes part of the process operation."
Tim Cox, design engineer for Cablevey Conveyors, suggests enclosed conveyors to eliminate some of the associated safety risks.
"Totally enclosed conveyors provide inherent safety. With all the moving parts enclosed, neither workers nor their clothing get in harm's way," Cox says. "Also the low-maintenance of our systems reduce the opportunities for maintenance personnel to have accidents."
Beyond the actual conveyor itself, there are measures that workers who interact with or around the conveyor system should take in order to maintain a safe environment and reduce risk of injury. This is essential during normal operations as well as maintenance.
"In addition to wearing personal protective equipment, preparing the machinery that will be worked on using appropriate lockout/tagout procedures, and making sure you're secured to a sturdy structure, following the proper procedures and using the right products is an essential part of a safe and successful belt repair," explains Kelly Clancy, PR specialist for Flexco.
Safety, however, does not just affect the plant and its workers — it affects customers and consumers as well. Seidel explains that food manufacturers face a big challenge with the Food and Drug Administration's Food Safety Modernization Act (FSMA) which shifts focus from responding to food contamination to preventing it in the first place.
"FSMA is the next big challenge for all food processors in the U.S. Understanding any equipment inefficiencies and safety issue in terms of disease, listeria, salmonella, etc. is a top priority for consumer health and therefore a priority for conveyor manufacturers," Cox says.
Food manufacturers also face potential dust explosions due to small particles such as flour. Safety includes being informed about issues such as this, and there is information available about what causes them and how to prevent them, but still many processors are unaware of the risks when buying conveyors, Seidel advises.
The Occupational Safety and Health Administration offers safety standards in regards to conveyors as well, including proper procedures during maintenance, operator requirements and required safeguards while in use. Manufacturers should consult these requirements before implementing a conveyor system in the plant to ensure they meet these standards and understand the process.
Ensuring plant workers are educated about the conveyors in use at their facility is vital to safety. Managers in charge of purchasing should also make sure to do research on the types of conveyors available beforehand to evaluate their needs and avoid a critical situation (such as the dust explosions mentioned above).
Why You Should Use Them
Conveyors offer a variety of benefits to a manufacturer, including reducing downtime and increasing operational efficiency.
Tim Kraus, who oversees product management for Intelligrated, says conveyors are becoming "more refined and intelligent" through technological advancement in the manufacturing industry, allowing for wider communication across the line and therefore minimizing jams as well as damage to the product.
"Labor trends in the U.S. show that there will be a significant reduction of available resources to fill the current roles required to sustain current manufacturing and distribution operations," Kraus says. "The addition of automation can fill that void and reduce errors."
Sometimes the benefits are so important that it seems ridiculous not to utilize them. Seidel argues that case, especially for food manufacturing.
"In the realm we operate — food processing in large quantities — not having conveyors is not a realistic option. The biggest benefit can be different from user to user, but basically it's a combination of throughput and efficient movement of materials," Seidel explains.
Overcoming the Challenges
While very beneficial to operations, conveyors can also present a unique set of challenges. With the right training and rules in place, however, many of these challenges can be overcome. Perhaps one of the largest concerns comes with maintenance responsibilities.
"While automated systems can reduce the requirement for physically moving and sorting items with human hands and thereby reducing staffing levels for these tasks, it also brings a requirement for a qualified maintenance staff to keep the operation running while minimizing downtime," Kraus says.
In addition to having a qualified maintenance staff, however, there are extra measures that a facility can take in order to ensure their conveyor system is as safe as possible. Even the best maintenance workers can sometimes overlook a repetitive task and miss a potential problem.
"Flexco also recommends bringing in a third-party auditor to inspect the conveyor system at least once a year," Clancy says. "Audits can not only assess maintenance needs, but a fresh set of eyes can also identify safety concerns that may not be seen by those who work on the conveyor every day."
Maintenance can also be challenging in that if something does go wrong, shutting the system down to fix it can be costly. Because some conveyor systems can be very complex, regular maintenance is important in order to avoid a massive and potentially unexpected breakdown.
"Downtime for cleaning and maintenance is probably the biggest challenge to operating efficiency — at least that's what we're told the effect of downtime is," Seidel affirms. "Efficient production is highly dependent on automation — efficient, unfettered automation. If a lot of maintenance is required to keep the processes going and the materials flowing your equipment is probably a bad bet worth reconsidering."
After all, what's the point in implementing a convenient system without ensuring a continually smooth process? Without proper safety and maintenance plans, a conveyor system could cause more problems than fix them — so it's important to prioritize the upkeep.
It goes without saying that beyond the overall productivity of operations, the most important factor is safety for plant workers. Luckily, implementing the practices outlined above can protect both.
Preventive actions save a manufacturer from unexpected costs, but more importantly it saves lives and reduces the number of injuries. Implement safe conveyor practices through proper training, education and enforcement and, as always, do your research so you can make the best decision for your plant's needs.