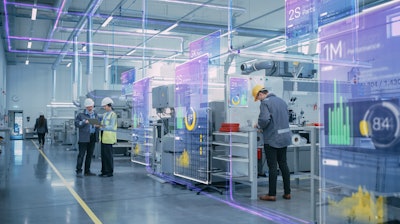 Digitalization was talked about in the supply chain world before the COVID-19 pandemic. However, when the pandemic hit it became clear that procurement teams needed more sophisticated AI decision intelligence tools to ensure supply continuity, manage costs, and mitigate risks.
The "Chip War" Creates Shifts
Just as teams were adjusting to the initial supply and demand shocks from the pandemic, geopolitical tensions arose, with significant implications for worldwide manufacturing. The war in Ukraine and deteriorating relations with China continue to accelerate reshoring and nearshoring as U.S. companies move production to other countries and invest in building capability domestically.
On October 7, 2022, the White House announced sweeping export controls on semiconductor technology to China. More recently, the Biden administration committed to provide billions in grants and tax credits to build the U.S. chip industry. By restricting U.S. companies from selling advanced computing chips, chip-making equipment, and other products to China, the U.S. government is focused on limiting China from advancing its AI technologies.
Because the most advanced chips require U.S. chip design software, manufacturing equipment and components, China is responding by using less powerful chips while developing its domestic capabilities. China is also implementing restrictions on U.S. companies and ramping up legacy chip production to flood the market with lower cost chips.
We're seeing increasing legislative actions, delays, and uncertainty continuing to make long supply chains much riskier. The uptick in lobbying around trade and the supply chain is a bellwether for corporate fear of how government regulations impact global companies with operations in China. Domestically, activities such as labor strikes and government shutdowns also threaten to cause further supply delays and result in escalating costs.
With all these risks, companies need to be able to keep an eye on how materials and parts are sourced—whether they manufacture products directly or use contract manufacturing. According to a 2022 EY survey, 68 percent of CEOs of some of the biggest global industrial manufacturing companies are increasing investments in digital technologies. More than ever, companies are struggling with the massive amounts of data across their value chains and need a way to quickly gain greater data transparency.
Using AI to Provide Decision Intelligence
This is where advanced technologies such as AI are quickly changing how companies work within their organization and with their contract manufacturers, aggregating data from multiple sources and turning the information into actionable insights. A recent study conducted with ProcureTech showed that the top 10 percent of high-performing leaders are all already using decision intelligence as a competitive advantage.
With the power of AI, supply chain and procurement teams can proactively monitor pricing and manage engagement with their contract manufacturers. After all, a key reason for outsourcing manufacturing is reducing costs and increasing profits. Delays in sourcing materials means delays in production. Ultimately, this leads to delays in getting products to market—which is why companies and contract manufacturers are turning to AI to bring greater visibility to the process.
The future of sourcing with contract manufacturing is collaborative, agile, and intelligent. Instead of the traditional transactional model, product companies can use sophisticated AI-powered platforms to engage with contract manufacturers, share insights, and contribute innovations that increase visibility, reduce costs, and mitigate risk across the full product life cycle.
Using AI-powered sourcing goes well beyond efficiency, serving as a competitive advantage for companies and the contract manufacturers they work with. The most sophisticated platforms pull in data from over a hundred disparate data feeds. These solutions use AI to find hidden patterns and provide early insights into why things might be changing with suppliers, components, or in the market. Using an intelligent, collaborative platform as a "single source of truth", companies and contract manufacturers can ditch the siloed data and processes and instead quickly agree on the next steps and even share demand forecasts.
The risks mitigated using technology can benefit both the parties with shared cost savings that increase loyalty and trust.
Increased visibility down to the part or component level provides the ability to mitigate risk for parts they source with part risk intelligence. Every single part you buy has the potential to delay production if you can't source it in a timely manner or if it's reaching end-of-life. Utilizing AI, teams can proactively monitor everything from supplier health and inventory levels to other points of failure before they impact production.
With the rapid adoption of AI across all sectors and industries, companies are already finding new streams of value using AI-powered sourcing. According to a McKinsey survey, businesses whose supply chains tapped into AI have already experienced a 61 percent improvement in customer service, a 15 percent reduction in supply chain costs, and a 35 percent increase in revenue.
The ability to collaborate with decision intelligence creates new agility in getting products to market faster and with higher quality, and with the power of AI, companies can save millions in hidden costs. Finally, the new level of transparency between companies and contract manufacturers creates trust and loyalty. If the last few years are any indication, the next decade will bring more uncertainty. Companies and their contract manufacturing partners can start creating their preferred future now by embracing this new digital paradigm shift.