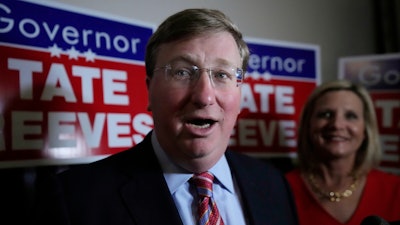 AP Photo/Rogelio V. Solis, File
JACKSON, Miss. (AP) — Mississippi announced financial incentives for a shipbuilder to expand in Gulfport in 2020, days after the president of the shipbuilder's parent company made a $10,000 campaign contribution to Republican Gov. Tate Reeves, records show.
Gulf Ship LLC, which received the state incentives, is a division of the Louisiana-based ship company, Edison Chouest Offshore.
The president of Edison Chouest Offshore, Gary Chouest, has given $66,000 to Reeves' campaigns since 2016, including $10,000 on Sept. 2, 2020, according to finance documents.
Fifteen days later, the state economic development agency under Reeves' supervision, the Mississippi Development Authority, announced Gulf Ship would receive state incentives to expand the site it opened in Gulfport in 2006. MDA said that with the expansion, the company would build tugboats.
"We are grateful for our partnership with the Edison Chouest team and are excited for the continued success of Gulf Ship and its skilled workers in Harrison County," Reeves, who is now seeking reelection, said in an MDA announcement on Sept. 17, 2020.
A spokesperson for Edison Chouest Offshore, Lindsay Guidry, did not respond to voicemail messages left by The Associated Press last week and on Monday and Tuesday.
The AP asked Reeves campaign spokesperson Clifton Carroll whether there was any direct connection between Reeves accepting the $10,000 contribution from Chouest and the state's announcement of incentives for Gulf Ship.
Carroll did not answer the question, but said in a statement Monday: "This is just a distraction from his campaign from real issues like the Governor's action to put $700 million into hospitals."
Reeves announced a proposal Thursday to reconfigure some Medicaid funding by requiring hospitals to pay higher taxes to draw down significantly more federal money. The plan requires federal approval, and Reeves announced it weeks before the Nov. 7 election.
The Democratic nominee for governor, Brandon Presley, has hammered Reeves for not expanding Medicaid to people working in jobs with modest pay and no private health insurance. Presley campaign spokesman Michael Beyer said Tuesday that Reeves' hospital proposal would reward big donors and leave rural hospitals with "crumbs."
Presley told the AP last week that Reeves' acceptance of a $10,000 contribution shortly before the state announced aid for a company connected to the campaign donor shows Reeves "is an ethically compromised governor."
"I think this is just another example in the long record of his pay-to-play schemes, whether it be with the industry, whether it be with appointments to boards and commissions," Presley said. "You know, the most dangerous place to be in Mississippi is between Tate Reeves and a campaign check."
MDA said the Gulf Ship expansion would create more than 200 new jobs, and the state would provide assistance for other improvements to the waterfront.
MDA later reported that it gave $333,000 to Gulf Ship in exchange for the company's promise to invest $1 million and create 150 jobs. MDA also certified Gulf Ship for the state's Advantage Jobs Rebate Program, which gives the company a rebate of 90% of its Mississippi payroll taxes for 10 years, as long as the company creates the promised jobs.
MDA awarded incentives to Gulf Ship less than two years after a separate deal involving another Edison Chouest Offshore affiliate, Topship, fell apart.
In December 2018, MDA voided its agreement to provide $36 million in grants and incentives to Topship because the company failed to provide its own investment or fulfill its promise to create 1,000 jobs to develop property on Gulfport's Industrial Seaway.
In 2016, then-Gov. Phil Bryant announced Topship's intended project to a banquet room full of businesspeople and other Republican elected officials in Gulfport, including then-Lt. Gov. Reeves. The Sun Herald reported Bryant did not mention that Gulf Ship had laid off employees in Gulfport days before the incentives for Topship were announced.
Jonathan Daniels, director of the Port of Gulfport, told WLOX-TV in 2019 that the Topship project crumbled because of economic problems in the oil industry.