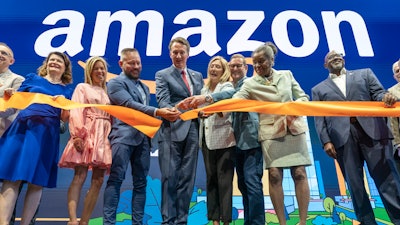 AP Photo/Jacquelyn Martin, file
RICHMOND, Va. (AP) — Two new Amazon operations facilities are coming to Virginia Beach, expected to eventually employ over 1,000 people, Virginia Gov. Glenn Youngkin announced Monday.
The retailer will establish a robotics fulfillment center expected to launch in 2025 and a delivery station expected to be running in time for the 2024 holiday season, the Republican governor's office said in a news release.
The new facilities will be Amazon's 14th fulfillment and sorting center in Virginia and the 17th delivery station. The company, which has a headquarters in Arlington, has invested more than $109 billion in Virginia since 2010, including infrastructure and employee compensation, Youngkin's office said.
"Amazon's cutting-edge fulfillment centers generate major capital investment and thousands of jobs and strengthen Virginia's position as a logistics industry leader on the East Coast," Youngkin said in a statement. "We see Amazon's expanding footprint impacting economic growth and innovation across the Commonwealth, and we will continue to compete for additional investment in Virginia."
The announcement did not specify the expected wages, but said Amazon offers "industry-leading pay" and benefits.
The city of Virginia Beach will fund stormwater and road improvements for the projects, according to the news release. The state is not providing any other incentives in conjunction with the facilities, Suzanne Clark, a spokeswoman for the Virginia Economic Development Partnership, said in an email.