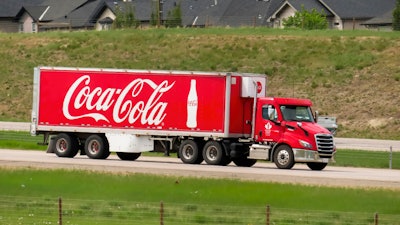 iStock
MONTREAL — In honor of its fifth birthday and importance of its "Toward a Better Future Together" environmental sustainability action plan, Volvo Trucks North America customer Coke Canada Bottling Limited unveiled its first Volvo VNR Electric trucks.
The trucks are part of a six-truck pilot of electric vehicles to serve its iconic "Red Fleet" customer delivery routes throughout the greater Montreal area. Coke Canada Bottling was the first Canadian food and beverage manufacturer to announce the adoption of electric Class 8 trucks into its fleet.  
As part of Coke Canada Bottling's "Toward a Better Future Together" environmental sustainability action plan, the Volvo VNR Electric trucks are contributing to the company's goal of reducing carbon emissions from direct sources and supplied energy by 46.2% by 2030. In addition to the deployment of the zero-tailpipe emission, Volvo VNR Electric trucks, Coke Canada Bottling is adopting other fuel efficiencies in their fleet through electrification of light-duty service vehicles and the use of alternative fuel sources.
Coke Canada Bottling's Volvo VNR electric trucks' debut took place during a special fifth birthday celebration held at the company's distribution center in east Montreal, home to a fleet of 650 heavy-duty vehicles that service customers across the region. Celebrations included in-person driving experiences for employees. Other stakeholders were also on hand at the event demonstrating their support of the initiative.
"Our global brand and this Canadian, family-owned business are well aligned on rapidly advancing environmental sustainability action plans," said Peter Voorhoeve, president, Volvo Trucks North America. "We look forward to supporting Coke Canada Bottling as they test out feasibility through this pilot. The deployment of the first battery-electric Volvo VNR Electric trucks at their fifth birthday celebration demonstrates the importance of pursuing environmental sustainability goals, which benefit the community and employees at every level."  
"As we celebrate our fifth birthday, marking the first of many milestones on our journey towards building a multi-generational business, we are reminded of the incredible journey we've embarked on. This milestone is not just a nod to our past and present, but also a beacon for the exciting future we eagerly anticipate. Piloting the electrification of some of our 'Red Fleet', an iconic presence on the roads of our country, underscores our ambition to be the leading beverage partner in Canada by earning our social license to operate, and we are immensely proud to partner with Volvo Trucks on this initiative," said Todd Parsons, chief executive officer at Coca-Cola Canada Bottling Limited. "We acknowledge the journey ahead, the work to be done, and are enthusiastic about the potential of this pilot with Volvo Trucks."
Coke Canada Bottling's Volvo VNR Electric trucks feature a six-battery configuration that can cover up to 440 km (275 miles) on a single charge as the trucks make several daily round trips of 150 km (93 miles) from the beverage company's distribution center in Montreal to customer locations throughout the region. Coke Canada Bottling also installed three 150 kW DC chargers with nine dispensers at its Montreal Distribution Center to support drive-through charging for the Volvo VNR Electric trucks. The trucks have a battery capacity of 565 kWh and can obtain an 80% charge in just 90 minutes. 
The Volvo VNR Electric trucks will be supported by their local Volvo Trucks Certified Electric Vehicle dealership. This certification includes robust sales and service training for all the dealership's staff to provide comprehensive support throughout a customer's electromobility journey, including securing incentive funding to reduce the cost of the battery-electric trucks.
Coke Canada Bottling utilized the federal and provincial incentives Écocamionnage and the Incentives for Medium- and Heavy-Duty Zero-Emission Vehicles (iMHZEV) Program funding to offset the cost of the six Volvo VNR Electric trucks.