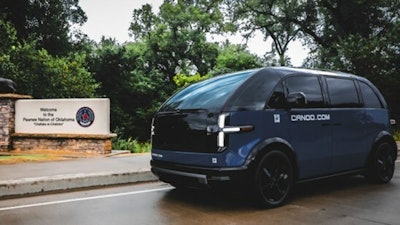 Canoo
Canoo Technologies announced today that it has established an agreement with the Pawnee Nation, based in Pawnee, Oklahoma, to identify and nurture emerging business and job opportunities in Oklahoma's growing clean energy industry.
"Our decision to locate our manufacturing in Oklahoma was driven in part by opportunities to work with tribal nations and others to further diversify local economies and to help create good jobs for working people in a dynamic emerging industry," says Tony Aquila, Chairman and CEO, Canoo. "Under this agreement, the Pawnee Nation and Canoo will work together to train workers and develop suppliers for Oklahoma's growing clean energy industry."
"We are excited to partner with Canoo and to continue to expand our business and economic development ventures," said Pawnee Nation President Misty M. Nuttle. "This partnership brings diversification for us as we engage in industries we currently have not explored. We are enlivened to be on the frontier of energy and renewable energy opportunities and as stewards of our tribal and trust lands and natural resources, felt it is our duty to engage in the most responsible efforts and initiatives, so our resources remain available for future generations. We felt Canoo, through their knowledge and experience within the clean energy industry, shared this same vision. Their willingness to assist the Nation in enhancing our efforts to meet the needs of people has shown us that we are embarking on a true partnership."
The agreement between the Pawnee Nation and Canoo is focused on four areas, Aquila says. First, building workforce skills in zero-emission vehicles and other clean energy technologies. Second, developing qualified suppliers of parts and services needed for the zero-emission vehicle industry. Third, supporting STEM education by connecting Pawnee students to internships and employment opportunities in clean energy fields. And finally, the Pawnee Nation will place an initial order for Canoo vehicles that will be built in Oklahoma.
Canoo said it believes this agreement is the first-of-its-kind with the Pawnee Nation and any business involved in clean tech or clean energy, such as manufacturing electric vehicles. The Pawnee Nation is focused on the continued development of its alternative fuel energy strategy and shift toward electrification within its community.