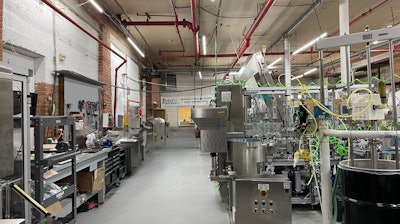 TurboFil Packaging Machines LLC
TurboFil Packaging Machines LLC, an equipment specialist dedicated to the design and development of liquid filling and assembly machines, expanded the product development and demonstration space at its Mount Vernon, New York, headquarters.
The additional space was necessary to accommodate double-digit year-over-year business growth, driven primarily by heightened demand for the company's pharma syringe filling and capping solutions.
For TurboFil, the expansion provides the company with approximately 50% more square footage – valuable real estate for designing the type of complex, often customized solutions it provides pharma customers in the U.S. and beyond.
The company's syringe filling and capping machinery have fueled the sales surge. Recent TurboFil solutions in these niches include:
TurboFil's Acrobat Chuck Capper is a servo-driven unit offering precision torque and gentle handling without costly bottle change parts.
Suitable for small to medium batches, TurboFil's

SimpliFil Syringe Filling & Assembly System

employs a versatile yet precise setup that accurately fills syringes via ceramic piston, peristaltic pump or direct draw from a reservoir bag.

TurboFil's benchtop

TipFil Syringe Draw Filler

offers full control of filling parameters in single or dual operation, providing accurate, consistent fills at up to 12 pieces per minute.