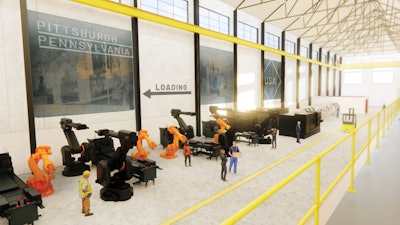 Re:Build Manufacturing
Pennsylvania Gov. Josh Shapiro joined leadership from Re:Build Manufacturing, the Regional Industrial Development Corporation (RIDC) and Pennsylvania leaders to announce an $81 million investment to create a major, innovation-focused manufacturing operation in the New Kensington Advanced Manufacturing Park that will create 300 high-quality jobs in Westmoreland County.
A leader in bringing high-tech manufacturing jobs back to the U.S., Re:Build's operations at the new regional headquarters in New Kensington will focus on state-of-the-art fabrication, manufacturing and integration and assembly projects in high-growth, innovation-driven industries including: energy, life sciences, robotics, electric mobility, satellite communications and aerospace.
The project will create Re:Build's first ground-up manufacturing facility in the U.S. in Pennsylvania.
"The funding increases in my budget will help us attract more companies like Re:Build that want to come to Pennsylvania and help retain the growing businesses that are already here – and we will continue to drive innovation on a global scale," Shapiro said.
As part of the project, RIDC and the Westmoreland County Industrial Development Corporation (WCIDC) have entered into a purchase agreement with the park's current owner, the Redevelopment Authority of the City of New Kensington, to acquire and redevelop the entire site.
Beyond creating high-tech manufacturing jobs, Re:Build's mission is to also provide the training needed to do this skilled work. The New Kensington site will work with Westmoreland County Community College and other local vocational training institutions to help students develop the skills required to qualify for employment at the facility.
"Bringing manufacturing back to the U.S. is critical to our economy, and a matter of national security," said Thomas Tull, board member and lead investor in Re:Build Manufacturing. "America reclaiming the manufacturing mantle will take time and requires Re:Build's holistic mission of combining precision manufacturing with cutting-edge technology."
The company's facility will be comprised of portions of five existing buildings and total 175,000 square feet once complete. Currently in serious disrepair, the facility will require $31 million in renovations, which will be funded by grants or loans from the Commonwealth, Westmoreland County and the Richard King Mellon Foundation, as well as equity investments from the RIDC and WCIDC.
Re:Build and RIDC received a funding proposal from the Department of Community and Economic Development (DCED) for a $1.5 million Pennsylvania First grant, a $7 million grant through the Redevelopment Assistance Capital Program, and are encouraged to apply for loans through the Pennsylvania Industrial Development Authority — all of which is focused on rejuvenating the New Kensington Advanced Manufacturing Park.
As part of the project, Re:Build will be investing $50 million in the project and creating approximately 300 new, full-time jobs within the next three years. More than 100 construction jobs will also be created to help renovate the new facility.