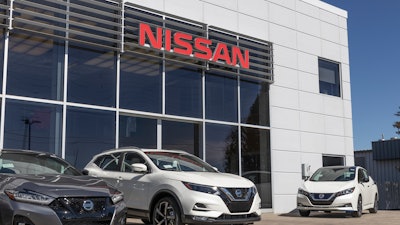 iStock
NASHVILLE, Tenn. (AP) — Several dozen workers among thousands at a Nissan factory in Tennessee voted not to unionize Thursday, another loss in tough territory for organized labor at a foreign-owned auto assembly plant in the traditionally anti-union South.
The 62-9 vote against the union at Nissan's Smyna plant followed two years of legal wrangling in front of the National Labor Relations Board that spanned two presidential administrations.
In a statement, the machinists union said the delayed decision from the federal labor board had a "chilling effect" on the campaign. A machinists union representative noted earlier this week that some employees from the original drive had quit, left for other jobs or retired since the push began.
"The IAM will continue to support these workers so we will be prepared for them to join our union when the time is right again. We want to thank our organizers for their tireless work in this campaign," Thursday's statement said.
In a statement after the vote, Nissan spokesperson Lloryn Love-Carter said the workers "elected to maintain their direct relationship with the company."
Love-Carter has previously said Nissan believes its workplace is "stronger without the involvement of third-party unions" like the International Association of Machinists and Aerospace Workers. Still, she emphasized that employees have the right to decide whether to join a union — a right that has been enshrined in federal law since the 1930s.
Nationwide, several high-profile unionization campaigns — at Starbucks, Amazon, Apple and other companies — have given organized labor a renewed spotlight of late, even as the union membership rate reached an all-time low last year. The number of workers belonging to a union actually increased by 1.9% to 14.3 million, but that failed to keep pace with higher overall employment rates.
Organizers cited a variety of reasons to unionize at the Nissan plant about 25 miles (40 kilometers) outside Nashville. Those include retirement, work-life balance and health care issues they want to negotiate.
Last month, organizers finally secured a vote after long arguing that the group of 75 tool and die technicians were eligible for standalone representation because they have extremely specialized skills for a job that can't be done by others at the facility. The Japan-based company contended the employees are not sufficiently distinct from other plant workers to be eligible for their own unionized bloc.
Plant workers first reached out to the International Association of Machinists and Aerospace Workers union in 2020. A federal labor official in June 2021 ruled against letting the dozens of workers vote on their own union. They would need to include thousands more employees. The facility currently has about 7,000 employees. The union didn't pursue the facility-wide vote.
After that decision, control of the National Labor Relations Board switched from Republicans to Democrats. After reviewing the decision panel since December 2021, the board ultimately overturned the previous ruling last month, giving the union a green light for the vote.
Unions have run into opposition from Republican politicians when they attempt to organize at foreign automakers in the South, including in Tennessee. There were no immediate reports of that happening during the tool and die campaign at Nissan.
Nissan does work with organized labor in the rest of the world, but votes to unionize broadly at the two Nissan plants in the U.S. have not been close. Workers in Smyrna rejected a plantwide union under the UAW in 2001 and 1989.
The automaker's other U.S. assembly plant in Canton, Mississippi, rejected facility-wide representation by the UAW during a 2017 vote.
The margin was much closer in 2014 and 2019 votes at the Volkswagen plant in Chattanooga, Tennessee, where workers twice rejected a factory-wide union under the UAW.
The year after the 2014 vote failed, 160 Chattanooga maintenance workers won a vote to form a smaller union, but Volkswagen refused to bargain. The German automaker had argued the bargaining unit also needed to include production workers. As a result, the 2019 factory-wide vote followed.
Tennessee already has a big union presence at an American automaker: The General Motors plant in Spring Hill has thousands of production and skilled trades workers represented by the United Auto Workers union.
There's also an open question about whether workers will unionize at four sprawling new factories planned by Ford in Kentucky and Tennessee by 2025, with an aim of hiring nearly 11,000 workers. Three of the plants — two in Kentucky, one in Tennessee — will be built with Ford's South Korean corporate partner, SK Innovation, to produce electric vehicle batteries. A fourth, in Tennessee, will make electric F-Series pickup trucks.