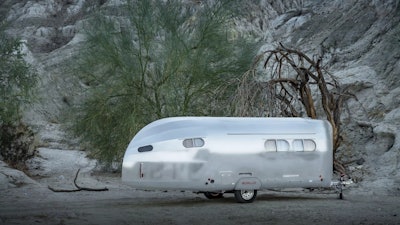 Bowlus
At a base weight of only 2,900 lbs and design cues paying homage to the brand's original 1934 model, luxury travel trailer maker Bowlus announced their newest model, the Heritage Edition. For those travelers who have dreamed of owning one of these hand-crafted trailers, it is positioned as the company's most accessible entry price point to date.
Camping reached fevered heights during the pandemic as travelers sought out less crowded areas to vacation. RV sales hit record numbers allowing people to travel in a controlled environment and work remotely.
According to Statista, before the outbreak, camping constituted 11% of all trips made by North American travelers in April 2020; however, following the pandemic, it is likely that this figure will have risen to 16%.
Glamping and RVing have gained immense popularity in the world of leisure travel, and more people than ever before are now incorporating these activities into their vacation plans. The pandemic has brought about a remarkable shift in the camping industry, with campers staying devoted to exploring nature's wonders.
Many travelers like Ashlee Fechino, who embraced camping during the pandemic, have found a newfound appreciation for the outdoors. "We purchased our first RV during the pandemic, and it has become our tiny house on wheels. We've been all over the U.S. with our camper in all four seasons.
"Road trips are our preferred and main means of traveling these days. It's more affordable, allows for flexibility with planning, and we can bring our dog. Traveling with our RV has leveled up our outdoor adventures and brought so much joy to our lives."
The Heritage Edition
Engineer and aircraft builder Hawley Bowlus originally built a lightweight travel trailer that could transport flight crews to remote takeoff locations in 1934. That set the standard in Streamline Moderne design that Bowlus is continuing more than eighty-five years later.
The Heritage is Bowlus' most affordable model, boasting a distinctive mill finish exterior with custom Granite Ridge interior design and the signature electric off-grid power system capable of powering customers' getaways for up to a week and a half at a time.
The world's lightest full-size travel trailer starts at $159,000 and incorporates a new satin-silver exterior finish to differentiate itself from other Bowlus models. But it maintains Bowlus' signature shape with a riveted aluminum exterior and monocoque construction similar to that of an aircraft or high-end supercar.
"The Heritage Edition maintains the ultra-high quality of all Bowlus models but with the enhanced flexibility of a more streamlined starting point," said Geneva Long, Founder and CEO of Bowlus. "This offering will give aspiring Bowlus owners who prefer a scalable assortment of premium options, such as extra battery power, the ability to own a Bowlus that better suits their vision of luxury land travel."
Bowlus' product portfolio will be streamlined into three models with the introduction of the Heritage Edition - including the Terra Firma Edition and the top-of-the-line Volterra edition that is all-electric.
Design Cues from the 1930's
As the travel trailer navigates through wide open roads or sits on display at its preferred destination, bystanders will undoubtedly admire its classic matte finish.
This spectacularly crafted RV offers a unique interior that captures every element of luxury land travel adventure. This edition features an interior with a Granite Ridge color palette that radiates light and tranquility, along with anodized aluminum walls reminiscent of when Bowlus pioneered aluminum campers in 1934.
The iconic design has been reimagined for the 21st Century by Long, who was included in the Forbes 30 Under 30 in the Manufacturing & Industry sector in 2020.
For the first time ever, Bowlus is providing a wrap option that allows customers to customize their trailer with Matte Black and Satin Grey options.
Off-grid Adventures
Bowlus has reinvented the meaning of "luxury tech." The Heritage Edition comes standard with a 2 kWh battery, providing powerful off-grid electricity for clients interested in week-long getaways to far-flung destinations. Several unique technology packages will be available for the Heritage Edition.
For those who are interested in solar power, ready-for-portable solar panels, Bluetooth power monitoring, and off-grid air conditioning, these are included in Power Package I with the addition of a 2 kWh (4 kWh total) battery. Longer off-grid adventures are possible with an additional 4 kWh (6 kWH total) battery available in Power Package II, as well as a touchscreen power panel.
Additionally, in the second package is remote temperature monitoring, PowerBoost, and off-grid air conditioning for up to 8 hours. Power Package II allows for off-grid living with electricity for up to one-and-a-half weeks.
Travelers who really want a fully loaded, luxury hotel room on wheels can opt for the Technology Package, which includes a cell booster, a 5G router, Starlink-ready internet, a backup camera, and bedroom and living room tablet mounts.
The Definition of Accessible Luxury
Bowlus travel trailers are highly regarded in the travel industry. As Andrew, an RV travel blogger at RV Camp Gear, comments, "They are perfect for any road trip and offer plenty of comforts when you're away from home. Plus, their classic style makes it easy to find one that suits your tastes perfectly."
According to Maximize Market Research, the booming luxury travel market is estimated to reach a whopping USD 2,728.80 Billion by 2029 as travelers covet luxurious amenities and favor the perks that high-end brands are known for. Appetites for luxury camping are changing, and Bowlus is leading the charge.
"The Bowlus Heritage Edition was created to appeal to another piece of the luxury land travel customer segment," said Long.
"Until the new Heritage model, the barrier to entry was much higher with Bowlus products that possess every luxury, performance feature, and technology imaginable. Adding the Heritage model elevates the existing trailers as halo models while delivering a new retro styling, with flexible and scalable options."
The Bowlus Heritage Edition is more than just a luxury camping option; it's a lifestyle. It's the opportunity to take your home on the road and explore the world while still having access to all the comforts of home.
Nick Mueller, Director of Operations of HawaiianIslands.com, comments, "I purchased a Bowlus Terra Firma and LOVE it. My favorite feature is a toss-up between the heated floors and the panoramic windows. I love getting up in the morning and feeling the warmth on my feet, and looking out at the landscape through the windows. I also love the slide-out food and water bowl drawer and dedicated pet bed for my dog- with whom I usually don't leave home without."
The Heritage Edition does not come with heated floors or slide-out pet bowls but instead offers standard features like the en suite bathroom and king bed.
With its ultra-light body and superb aerodynamics, the Heritage is a fantastic option for any SUV, crossover, or electric vehicle, making it one of the most appealing travel trailers on the market.
This is the definition of accessible luxury, and it's only available from Bowlus.