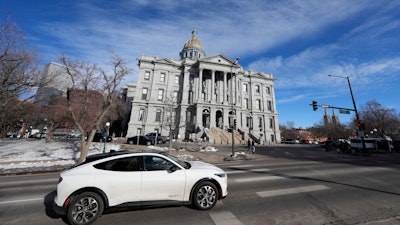 AP Photo/David Zalubowski
DETROIT (AP) — Ford is cutting prices on its Mustang Mach-E electric SUV by as much as $6,000 just weeks after market leader Tesla took similar steps.
The Detroit automaker is increasing production of the Mach-E this year and is taking advantage of streamlined costs to reduce prices across the board, it said Monday.
Although Ford didn't mention Tesla in its statement, the Dearborn, Michigan, company said the price cuts are part of Ford's plan to keep the SUV competitive in a fast-changing market.
"We are not going to cede ground to anyone," said Marin Gjaja, Chief Customer Officer of Ford Model e, the company's electric vehicle unit.
The price of a base rear-wheel-drive standard range Mach-E will drop $900, from $46,895 to $45,995. The top-end GT extended range will fall $5,900, from $69,895 to $63,995. The prices don't include shipping, government fees or taxes.
On Jan. 13, Tesla Inc. slashed prices dramatically on several versions of its electric vehicles, making some of its models eligible for a new federal tax credit that could help spur buyer interest.
The company dropped prices nearly 20% in the United States on some versions of the Model Y SUV, its top seller. That cut will make more versions of the Model Y eligible for a $7,500 electric-vehicle tax credit, which will be available through March. Tesla also reduced the base price of the Model 3, its least expensive model, by about 6%.
The cuts were in response to slowing demand and Tesla's sagging stock price.
Ford said customers who ordered Mach Es and are awaiting delivery will automatically get the lower prices. The company will reach out directly to those who already have their vehicles with a sale date after Jan. 1.