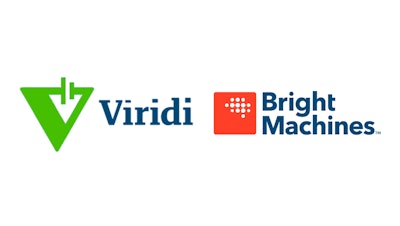 Bright Machines today announced that it has been selected by EV battery maker, Viridi Parente, to digitally transform the company's U.S. electric battery manufacturing facility.
Bright Machines will provide Viridi with microfactories, full-stack assembly automation solutions that help modernize manufacturing by leveraging data and AI.
Viridi manufactures battery energy storage systems on a 42-acre campus in Buffalo, New York. Bright Machines will be integral in assembling Viridi's stationary lithium-ion battery pack system modules, designed and tested to be fail-safe for installation in commercial, industrial and residential spaces.
Bright Machines will help Viridi automate the assembly of its clean, sustainable power sources, replacing century-old, distributed energy platforms, such as fossil fuel, lead-acid batteries and other outdated technologies. Viridi will also introduce greater sustainability practices using Bright Machines' intelligent automation solution, which assesses production areas to identify the best material needs to reduce defect rates. Additionally, because its facility is close to the end consumer, Viridi will be able to reduce overproduction and instead produce-to-order based on local market demand. The result is less landfill and an overall reduction in Viridi's carbon footprint.
Localizing the production of critical battery components is the only way to drive down costs, emissions and geopolitical risks while meeting U.S. battery and electrification demand. Bright Machines' intelligent assembly automation supports rapid product evolution in a cost-efficient manner, while shortening time to market. The shift towards closer-to-home production creates U.S.-based jobs and helps companies advance sustainability efforts with local and regional supply chains.
Headquartered in San Francisco, Bright Machines is a technology company bringing an innovative approach to intelligent, software-defined manufacturing automation. The company operates R&D and Field Operation Centers in San Francisco, Tel Aviv and Guadalajara, with additional support in North America, Asia and Europe.