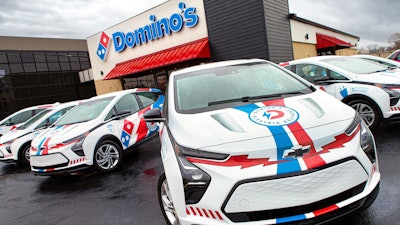 Domino's
Domino's Pizza said more than 100 custom-branded 2023 Chevy Bolt electric vehicles are arriving at select franchise and corporate stores throughout the U.S. this month, with an additional 700 rolling out in the coming months.
"Domino's launched pizza delivery in 1960 with a Volkswagen Beetle, rolled out the DXP – a custom-built pizza delivery vehicle – in 2015, tested autonomous pizza delivery with cars and robots, and is now leading the charge in the future of pizza delivery," said Russell Weiner, Domino's chief executive officer. "We've made a commitment to net-zero carbon emissions by 2050, and this is one way we can begin reducing our environmental impact, one delivery at a time."
Domino's is partnering with Enterprise Fleet Management, which will offer local hands-on account management, vehicle acquisition, financing, telematics solutions and maintenance for the electric delivery fleet.