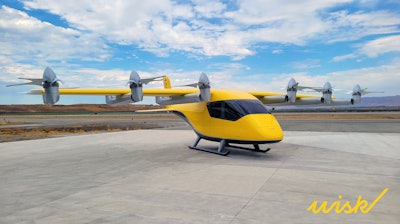 Wisk Aerospace
Wisk Aero, an Advanced Air Mobility (AAM) company, today revealed what it is calling the world's first self-flying, all-electric, four-passenger vertical takeoff and landing (eVTOL) air taxi. The company said the aircraft represents the first-ever candidate for type certification by the FAA of an autonomous eVTOL.
Wisk, which has backing from Boeing and Kitty Hawk, said its eVTOL includes autonomous flight with human oversight, a simplified design with fewer moving parts, fully redundant systems and no single point of failure.
Wisk said its air taxi can reach a cruising speed of 120 knots, a range of 90 miles with reserves and an altitude of 2,500 - 4,000 feet above ground. The aircraft seats four and has a less than 50-foot wingspan. The company estimates it can transport people at a rate of $3 per mile per passenger.
Wisk's 6th Generation aircraft design and configuration includes:
Proprietary 12 propeller design and boom configuration with improved propulsion systems. Tilting propulsion units in front of the wing and fixed lift units aft of the wing are optimized for range, improved aircraft control and performance, and efficient energy management.
A raised wing design, extended booms, and increased size and number of propeller blades to improve safety, stability, and the passenger experience, while reducing both in-cabin noise and the aircraft's overall noise footprint.
A larger passenger cabin with 4 seats and ample storage for baggage and personal carry-on items, making it one of the most versatile air taxis in the market.