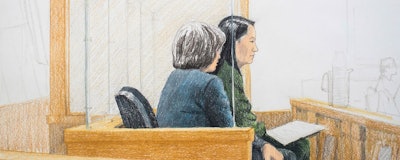 BEIJING (AP) — China raised the pressure on the United States and Canada as a bail hearing for a top Chinese technology executive was set to resume Monday in Vancouver, British Columbia.
A headline in a Communist Party newspaper called Canada's treatment of Meng Wanzhou, the chief financial officer of Huawei Technologies, "inhumane." The editorial published in Monday's Global Times followed formal government protests to the ambassadors of both Canada and the United States over the weekend.
Meng was detained on Dec. 1 while changing planes in Vancouver. The U.S. wants her extradited. It alleges Huawei used a Hong Kong shell company to evade U.S. trade curbs on Iran.
Her arrest could fuel U.S.-China trade tensions at a time when the two sides are seeking to resolve a dispute over Beijing's technology and industrial strategy. Both sides have sought to keep the issues separate, at least so far.
"This is a criminal justice matter," U.S. Trade Representative Robert Lighthizer said on CBS' "Face the Nation" on Sunday. "It is totally separate from anything that I work on or anything that the trade policy people in the administration work on. ... We have a lot of very big, very important issues. We've got serious people working on them, and I don't think they'll be affected by this."
The hearing on whether to release on bail was due to resume later Monday. Canadian prosecutor John Gibb-Carsley asked the court Friday to reject Meng's bail request. Justice William Ehrcke said he would think about proposed bail conditions over the weekend.
Vice Foreign Minister Le Yucheng summoned Canadian Ambassador John McCallum on Saturday and American Ambassador Terry Branstad on Sunday. He called Meng's detention "extremely egregious" and demanded that the U.S. vacate the arrest warrant, the official Xinhua News Agency said.
Le warned both countries that Beijing will take steps based on their response. Asked Monday what those steps might be, Foreign Ministry spokesman Lu Kang said only that "it totally depends on the Canadian side itself."
The Canadian province of British Columbia has already canceled a trade mission to China amid fears China could detain Canadians in retaliation for Meng's detention.
Commercial retaliation against firms from countries at odds with China has grown increasingly common as Beijing exercises its leverage as the world's second largest economy.
Authorities closed most of Lotte's supermarkets in China after the South Korean retailer sold land at home for a U.S. anti-missile system that Beijing opposed.
At least two companies are rallying to support Huawei.
Shenzhen Menpad Technology Group, which makes teleconferencing, security monitoring and hotel TV systems, is offering a 15 percent subsidy to employees who buy Huawei mobile phones. It also said it would not buy American vehicles, computers and other office equipment and that employees buying Apple iPhones would be fined.
Crowne International, a major wine importer, is offering employees a 10 percent discount on Huawei products for the next six months. Company Chairman Yang Huantao said he is angry and just doing what he can do to help.
Such movements are almost certainly countenanced by the ruling Communist Party. The government doesn't confirm its role to avoid damaging its image as a champion of free trade.
Huawei, the biggest global supplier of network gear for phone and internet companies, has become the target of U.S. security concerns because of its ties to the Chinese government. The U.S. has pressured other countries to limit use of its technology, warning they could be opening themselves up to surveillance and theft of information.
Lu, the Foreign Ministry spokesman, accused unnamed countries of hyping the "so-called" threat. "I must tell you that not a single piece of evidence have they ever presented to back their allegation," he said. "To create obstacles for companies' normal operations based on speculation is quite absurd."
Canadian officials have declined to comment on Chinese threats of retaliation, instead emphasizing the independence of Canada's judiciary and the importance of Ottawa's relationship with Beijing.
Both the Global Times and the China Daily noted that Meng had been handcuffed and wore ankle restraints. "It is hard to escape the conclusion that her treatment is something of a show trial intended to humiliate her and the Chinese people," the China Daily said in a Monday editorial.
While protesting what it calls Canada's violation of Meng's human rights, the Communist Party is regularly accused by outsiders of rights violations at home. They include the widespread interment of Muslims in restive regions without due process to refusing to allow citizens of other countries to leave China to pressure their Chinese relatives living overseas and accused of financial crimes.
___
Associated Press writers Rob Gillies in Toronto and Christopher Bodeen and researcher Shanshan Wang in Beijing contributed to this report.