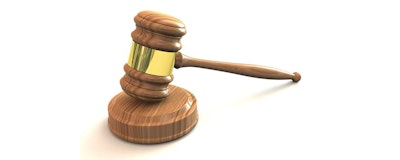 NEW YORK (AP) — A corporate executive was sentenced to 2½ years in prison Thursday for defrauding a New York state economic development program in a case that stretched up to the governor's office.
Joseph Gerardi, 59, was sentenced in connection with the Buffalo Billion project, part of a prosecution that resulted in a six-year prison sentence earlier this year for Joseph Percoco, a former top aide to Gov. Andrew Cuomo.
The Democratic governor wasn't charged in the case and denied any knowledge of Percoco's influence peddling. However, trial testimony presented an unflattering picture of the inner workings of his office.
U.S. District Judge Valerie E. Caproni on Thursday decried public corruption as she announced Gerardi's sentence, saying it should serve as a warning to those who want to cheat as they compete for contracts involving government funding.
"You must be purer than pure because the money you're going to get comes from hard working people," Caproni said, referencing taxpayers.
For those who break the law, the judge said, "the court will show you no mercy."
She also fined him $500,000 and said he'll be subject to a forfeiture order that is yet to be determined.
Gerardi was a top executive at COR Development in the Syracuse area who helped secure a $100 million deal to build a factory and film studio in Syracuse as part of the state's Buffalo Billion project to bring jobs to upstate New York. He was convicted at trial earlier this year of conspiracy, wire fraud and making false statements to federal officers.
Prosecutors said he bribed a senior official in the governor's office in one scheme and conspired to rig contracts to steer large projects to his company. He was acquitted of the bribery scheme.
Gerardi, a lawyer himself, declined to speak on the advice of his lawyer, who is seeking to postpone the March start of his prison term while an appeals court considers the case.
The lawyer, Milton Williams, said Gerardi would "say a lot of things about how he's sorry" if he could speak.
Assistant U.S. Attorney David Zhou said Gerardi had "very little respect for the law" even though he was a practicing lawyer.
"He has no contrition and accepts no responsibility," he added.
Caproni congratulated Gerardi because both his sons achieved Eagle status as Boy Scouts and cited letters submitted on Gerardi's behalf, though she added that she had trouble reconciling their depiction of him with what she saw from evidence presented in court during two trials.
"Mr. Gerardi showed no respect for the process," she said of what was necessary to secure state-funded contracts. "He was above it."
She noted evidence at trial about an instance in which Gerardi and others used influence in the governor's office to circumvent the insistence by state employees that they meet some legal requirements of the work they had secured.
"When he got what he wanted, he laughed and demeaned those public servants, who were just trying to do their jobs," the judge said.