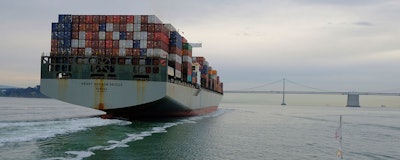 WASHINGTON (AP) — The economy should grow at a healthy pace this year and next, though the Trump administration's trade policy will likely act as a drag, a group of business economists said.
Growth should reach 2.9 percent this year, according to a survey of 51 economists by the National Association for Business Economics, released Monday. That would be up from just 2.3 percent in 2017. And growth is forecast to be 2.7 percent in 2019, the survey found.
Overall, the economists are slightly more optimistic than they were when last surveyed three months ago. Buoyed by solid consumer spending and a healthy increase in business investment, the survey respondents expect the economy will overcome any negative impacts from higher tariffs.
Just over half of the respondents expect that the next recession won't arrive until 2020 at the earliest, while one-third said it wouldn't occur until 2021.
Inflation should remain in check, the survey found, rising to just 2.5 percent this year from 2.1 percent last year. Yet price gains will then likely moderate to 2.3 percent in 2019, the survey said.
Still, worries over trade policy have darkened the outlook for many. Nearly 80 percent of the economists surveyed cut their growth forecasts for next year by up to one-half a percentage point, the NABE said, because of trade concerns. The Trump administration has slapped tariffs on most steel and aluminum imports and on nearly half the imports from China.
And one-half of the respondents have increased their inflation forecasts because of the import taxes.
More economists cited "trade policy" as the greatest risk to future growth, the NABE said, than any other issue. Higher interest rates and a large drop in the stock market were tied as the second-most likely risk, while just a few economists cited rising inflation and "labor shortages" as risks to growth.