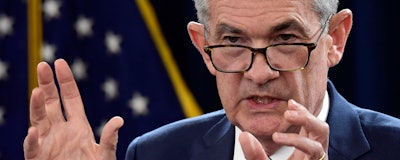 WASHINGTON (AP) — Federal Reserve Chairman Jerome Powell said Thursday that the economy is healthy and that the Fed's steady interest rate increases are intended to prolong its expansion.
Powell said he and his colleagues believe the Fed's approach to gradually raising rates from ultra-lows to historically normal levels "is helping to sustain this strong economy for the longer-run benefit of all Americans."
The Fed chairman said the benefits of the strong economy have helped boost employment, but he acknowledged that the benefits haven't reached all Americans.
"Many of our country's economic challenges are beyond the scope of the Fed, but we are doing all we can to keep the economy strong and moving forward," Powell said in remarks prepared for a conference of Rhode Island business executives sponsored by Sen. Jack Reed, a Rhode Island Democrat.
Powell's comments came one day after the Fed raised its key policy rate for a third time this year and signaled that it plans to tighten credit once more this year and three times in 2019.
Powell noted that even with the latest rate hike — the eighth quarter-point increase since late 2015 — "these rates remain low." The Fed's latest increase has lifted its key rate to a range of 2 percent to 2.25 percent, still low by historical standards.
The central bank began raising its benchmark rate in late 2015 after having kept it at a record low near zero since 2008 at the height of the financial crisis. Last year, the Fed raised the rate three times, just as it has so far this year.
In an updated economic projection Wednesday, the Fed forecast that strong growth this year would begin to slow next year. In doing so, it sketched the outlines of a "soft landing" in which its rate increases would slow the economy enough to control inflation but not enough to end the expansion, now in its 10th year, the second-longest on record.
In a question-and-answer session, Powell was asked whether he saw any dangerous bubbles forming in such assets as stock prices.
Powell said that some asset prices were high but that he didn't see any bubbles forming. He said the reforms made after the 2008 financial crisis had made the banking system safer.
And he suggested that the financial crisis had delivered a strong lesson of the critical need to promote stability in the financial system.