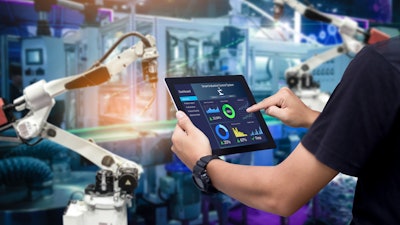 Growing up in a brilliant, non-academic, blue-collar family, a passion sprouted at an early age to learn everything possible about the advancements of the Information Age, aka the Electronic Era. College was not an option but rather a family demand. As continued education taught about current and future innovations, concerns ignited for the human workforce as machinery and equipment slowly but surely continued creeping in to replace people wherever possible.
Fast forward, now in a senior leadership role at an expanding East Coast niche manufacturer, concerns are heightening about how to keep a dedicated, industry-specific workforce relevant in the wake of furthering production floor efficiencies with the applicable industrial improvements in robotics, 3D printing, AI, IoT, 5G, nanotechnology plus others.
Drive to Inspire
The organization's foundational mission established by the CEO is that this business exists to change people's lives. This is refreshing in a ruthlessly ambitious world, but how does a company remain competitively priced, improve project completion pace, maintain profitability, and un-waver from its pursuit of positively impacting people's lives? Personal development of those who thought they had learned everything in their trade – that's how. Investing in team members keeps everyone employed in this organization.
The next question is how to inspire those that have been in their comfort zones for many years. The reality is that some will never want to leave that warm-fuzzy place of knowing what they know, and that's all they want to know because they are great at it. Some want to see if others will succeed before they dip their toes in the unknown, seemingly cold abyss.
However, about a third of the team is enthusiastically jumping at the opportunities for company-paid personal career development. This unanimous company-wide decision and initiative have also drawn the attention of prospective employees eager to join a team where all levels of leadership are dedicated to individualized employee development plans.
The key is not to force job progression but to get each person excited about their future and how they can grow, which will naturally flow throughout the organization due to enriched morale and encouragement of what the future holds. As each person understands the impacts of technological intrusion and considers the benefits associated with increasing their skill sets, they recognize the positive impacts of learning industry advancements, personally growing in their careers to avoid job obsolescence, and earning higher wages. These effects, once realized, have truly been life-changing for employees and their families.
Opportunities for Growth
The leading reasons people abandon places of employment are a poor connection to others in the organizations, lack of respect, and no chance for advancement. Adopting the mindset that people work for people has greatly uplifted company culture. The methods employed to combat these leading reasons for employee turnover are directly related to skill and career development for every person in the organization, from entry-level to skilled tradespeople to production floor managers and every position in between.
Since the company's product line consists of custom units hand-built to the end locality's ecological, atmospheric, and geographic requirements, manufacturing has been labor intensive for the last 20+ years. Over the years, very few technologies were identified that would significantly impact production efficiencies until a retired space exploration engineer joined the team and awakened the forces. This addition to the team immediately took innovative awareness immeasurable steps into the organization's future.
Early in the manufacturing advancement assessment, every known avenue was investigated, leading to a plethora of sources for additional information and development. With the help of local vocational centers, community colleges, and trade-specific schools, team members are learning and progressing their careers through employer-paid professional development. Courses start at a beginner's level and continue to certification for trades in electrical, welding, equipment operation, engineering, project governance and quality assurance.
As employees secure the foundation of their chosen field, they discover how robotics, AI, and other technologies will increase production rates, improve quality consistency, and increase their knowledge of the relevant industry and trade-specific machinery and equipment. Knowing how to operate, monitor, and program such applications significantly boosts that individual's confidence and others' enthusiasm and desire to want to learn also.
On a personal level, company-paid English courses are available for those whose native language is not English. Leadership classes are also company-paid and offered to those interested in future supervisory or management roles.
Often companies that adopt technologically advanced equipment replace workers with machinery without considering the opportunities the technology creates for their loyal team members. Organizational cultures that incorporate technology to the detriment of human betterment have forgotten the importance and purpose of their calling. Companies are led to modernization through human interaction with innovation.
As the transition from the Information Age to the Experience Age takes hold, businesses must embrace their social responsibility of employee development for the good of each other and the world.
Michelle Gartman is an MBA student at Regent University and Financial Controller for the east coast-based niche manufacturer Acoustical Sheetmetal Company.