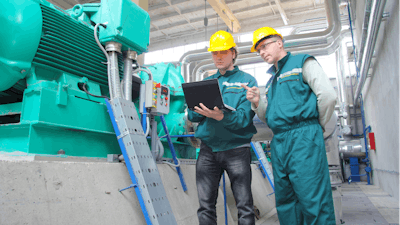 In the early days of automation, manufacturing technology was often about replacing workers. Robots could do many repetitive jobs faster for less money, and there was no arguing with the economics. Today, the exact opposite is true. We have a manufacturing labor shortage with no end in sight, which has caused many organizations to accelerate investment in automation technologies to help amplify the performance of their existing staff.
Today, technology has taken on a new role – that of making people more productive. Digital transformation is now all about extending the benefits of technology to every employee, at every level of the enterprise.
There's only one problem: those employees are getting hard to find.
Today, hundreds of thousands of manufacturing jobs are going unfilled around the world. Companies are even struggling to fill high-paying, entry-level production jobs. Last year, according to a research study by Deloitte and The Manufacturing Institute, the industry had a record number of job openings, and not all due to the pandemic.
What's more, things are going to get worse. The National Association of Manufacturers is forecasting that 2.1 million manufacturing jobs could go unfilled by 2030. These unfilled jobs will have a significant economic impact and could cost the industry $1 trillion or more.
Just at a time when digitally transformed manufacturers are poised to enable extraordinary productivity and effectiveness from their employees, they can't find enough people.
What's Causing This Manufacturing Labor Shortage?
Part of the problem is finding people with the right skills. But it's also how manufacturing jobs are viewed by the public. According to Carolyn Lee, executive director of The Manufacturing Institute, many people either don't know these jobs exist or think of manufacturing as a dead end. "Some just don't see the point" of a manufacturing career, she says. In a world ruled by technology, manufacturing seems old school.
Of course, the reality is just the opposite. Manufacturing is a high-tech frontier in the application of automation, artificial intelligence, machine learning, digital collaboration, and augmented reality, to name a few examples. As Lee says, "Modern manufacturing careers are increasingly high-tech, high-skill, and high-pay." And they depend, she notes, on "irreplaceable human skills—things like creativity, critical thinking, design, innovation, engineering, and finance."
Indeed, certain manufacturing jobs are still being replaced by automation. Self-driving vehicles in warehouses may someday be the norm, although vehicles driven remotely by Augmented Reality (AR) equipped humans are a proven alternative right now. In some industry sectors, "lights-out" manufacturing is a possibility. But in the world of complex manufacturing, most people are not very replaceable.
What Can Be Done?
If technology once took manufacturing jobs away from people, it may now be the key to bringing them back. Working in a manufacturing company is nothing like it used to be. Today it can be a cutting-edge technology experience. Those manufacturers that are investing in modern systems, web-based applications, and highly scalable architectures should be able to use that fact to attract and keep employees.
Offering the ability to work remotely is one obvious example. This was a trend before the pandemic, and it has only been accelerating. A digitally transformed company can support a wide range of remote workers – a staff that increasingly can work anywhere. They can be knowledge workers, office managers, engineers, technicians, or even equipment operators located anywhere in the world with an Internet connection.
The opportunities go well beyond remote work, too. For example, VR (Virtual Reality) can be used as a training tool to develop skills for new workers or those who want to advance. Managers and executives can use the latest AI (Artificial Intelligence) technology to help make decisions and run operations in real-time. AR (Augmented Reality) like smart glasses can be used by plant workers to enhance their work experience and boost effectiveness. Research suggests that 40 percent of organizations will combine the physical work experience with virtual technology in some fashion by 2023.
Many analysts are beginning to talk about the emergence of a shared industry ecosystem where human expertise will be available online as needed, something like Uber for manufacturing jobs.
Each of these factors can help to overcome the manufacturing labor shortage. There is no doubt future innovation we can't foresee will also be part of the solution.
Back to the Future
Digital transformation is a work in progress and there's a lot of uncertainty ahead. However, one thing is clear: the manufacturing workplace is being radically transformed and companies need to go back to basics to recruit and keep employees. The Deloitte study recommends reaching out to communities and schools to build awareness, and to "leverage advanced technologies to increase digital fluency."
Digital transformation is no longer just concerned with streamlining operations and improving efficiency and resiliency. Those things still matter. But now there's another reason to digitally transform: to attract, keep, and empower people at every level. Now and in the future, an enterprise's ability to build its human capital may well depend on how successfully it has embraced—and promoted—its digital transformation.
Tom Hennessey is the Chief Marketing Officer at iBASEt. He brings over 25 years of enterprise software marketing and business development experience to the executive leadership team. He is responsible for the strategic growth of the company. Tom earned his MBA at the University of Southern California and holds a BS degree in Management from Northeastern University.