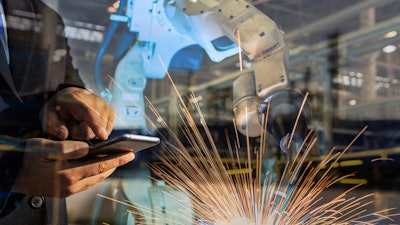 As a joint venture owned in part by Japan-based Toyota, Pakistan's Indus Motor Company (IMC) has ldopted a Japanese business tenet called yokoten, which essentially means sharing best practices across an organization.
In this case, IMC is spreading the word about digital best practices that have led to significant quality control gains and fewer production errors at facilities where the company manufactures Toyota brand vehicles. Over the past several years, Indus Motors has invested heavily in technologies and systems connected to the Internet of Things, machine learning and artificial intelligence in an effort to move away from archaic spreadsheet-based manufacturing processes, to a digitally connected smart factory environment where data flows seamlessly from the shop floor to the top floor.
The results have been measurable and sustainable. Defects in a component such as a shock absorber now can be addressed almost in real-time, before the vehicles in question leave the plant. Previously these types of defects could take up to a week to identify, so numerous cars would ship before the issue could be addressed. That led to costly recalls.
Connected IoT sensors now enable the company to immediately identify defects and quality anomalies in components and sub-assemblies. And because IMC's suppliers also are connected digitally to the manufacturing operation, the company can notify a particular supplier in real-time if one of its parts is defective. All this data-fueled insight has resulted in a 20 percent reduction in defects per unit. It also has helped IMC's suppliers improve their quality assurance processes.
"Now we have the power to stop defects from going deep into the supply chain," says Faizan Mustafa, IMC's chief information officer. "We've reduced defects in our final products and the cost of dealing with them. We're also delivering higher-quality products that keep customers satisfied."
Seeing Double
A digital twin gives manufacturers a tool that brings these capabilities together on a single platform. Fed by data from IoT sensors, a digital twin is a digital representation of a physical asset, system or product. It simulates not only the design and manufacture of the asset or product, but how it likely will perform throughout it's life. Data collected during the manufacturing process, as well as during actual end-use of the product, creates a loop for the continuous optimization of production and product performance in the real world.
Across the manufacturing spectrum, a broad range of companies are benefiting from the real-time visibility and predictive insight that comes from end-to-end connectivity and tools. We see that connectivity manifesting at five levels:
Shop floor to top floor, inside the manufacturing entity.
Machine to machine, enabling autonomous decisions based on sensor data and machine learning algorithms.
E-commerce integration, where the customer is looped into the configuration process.
Manufacturing collaboration, where all stakeholders are transparently connected and work off a single version of the truth.
Machine cloud, where predictive maintenance and quality lead to better outcomes for the entire value chain.
With all sensors, devices and equipment connected, the manufacturing stack shifts from transactional production execution to data-driven business process execution and optimization. This Industry 4.0 combination of connectivity, transparency and analytic power becomes even more critical as the manufacturing world moves to mass customization.
Companies gain the ability to adjust manufacturing on the fly to meet a single customer's unique demands for product variations. These adjustments are informed by AI and machine learning-driven analytics tools that digest vast amounts of sensor data around production parameters like temperature, vibration and humidity to identify patterns that may impact product quality.
Here in the age of customer-centricity, manufacturers with engineer-to-order, mass-customized or high-volume-based production models need to deliver high-quality products at scale and at service. A technology backbone of connected sensors, devices and 5G industrial networks enables a manufacturer to transform through their Industry 4.0 programs.
The common link for Industry 4.0 is the digital twin, which includes capabilities to digitally capture as-designed, as-built and as-operated views of a system. This is where data-driven optimization, intelligent algorithms and application, vertical and horizontal integration between domains and other capabilities will enable flexible and adaptive production processes to dynamically react to different demands, setups and workflows. The end result is an Industry 4.0-enabled product built exactly to customer specifications.
By adopting this type of approach, a metalworking enterprise with which my company, SAP, works has increased its production efficiency by fully integrating engineering with manufacturing. Machines on the shop floor get the most current data on a customer order for manufacturing and can also incorporate engineering changes into the process, adjusting setup accordingly. The company tracks each component as it makes its way through the process, in real time, via mobile device.
This connected approach has eliminated production bottlenecks, reduced lead times and streamlined material planning within the supply chain.
A 2019 McKinsey global survey of discrete manufacturers indicates there's still plenty room for manufacturers to gain a competitive advantage by using an Industry 4.0 smart factory approach. In the survey, just 29 percent of discrete manufacturers indicated they have started to deploy these types of solutions at scale, while another 41 percent are piloting them. With the forces of yokoten at work, those figures likely won't stay low for long.
Sayan Bose works with the SAP Industrial Machinery & Components industry business unit in the North Americas. He's based in Chicago.