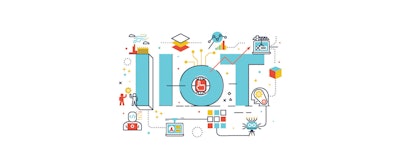 The Internet of Things (IoT) and its commercial counterpart, Industrial Internet of Things (IIoT), are perennial trending topics for good reason. Internet-embedded technology touches nearly every part of our daily lives, from smart electric meters and security cameras to personal health monitors and TVs. By 2020, more than 20 billion devices will be part of the IoT base, and IIoT specifically will account for 15 percent of total IoT spending.
From remote monitoring to predictive maintenance, manufacturers have a huge opportunity to benefit from IIoT technologies—especially if they act holistically.
Systems of sensors collect data that otherwise would be slow to aggregate or have a low degree of fidelity in the real world. As these sensors grow in affordability or are packaged in new ways and with new algorithms, manufacturers will realize even more IIoT benefits, including optimizing operations, preventative maintenance, creating a safer work environment and boosting the bottom line.
Key Considerations When Implementing IIoT Investments
As with many new ideas, it's best to test small and then scale when applying IIoT technologies in a manufacturing environment. Apply your learnings to each aspect or location of your business.
Consider each step of this roadmap when implementing your own IIoT technologies:
Investment planning and success criteria: IIoT's return on investment frequently plays out over years instead of weeks. Therefore leaders and management must set incremental, early-stage success criteria to demonstrate value early, maintain motivation and identify what success looks like not just from a data perspective, but for individual employees.

It's a process one global leader in industrial equipment manufacturing put into play when it hired Nerdery to create innovative new revenue streams in just eight weeks.
The discovery process, which included plant visits, one-on-one conversations, and demonstrations, focused not just on internal outcomes but the needs of its end users. They discovered a major pain point: A desire for fast, digitized solutions in an otherwise analog industry.
Then a use case was developed that combined digitally-forward tools and a dual client and end-user value proposition. The client would use sensors to gain insight into when customers needed to swap out parts and provide that service directly to customers in the future.
Security: Connecting machines to an external network significantly opens up the surface area for an attack—something many manufacturers haven't appropriately anticipated. Many IIoT networks are easy targets for hackers; 84 percent of industrial companies have at least one remotely accessible device, and 57 percent aren't running feasible antivirus protections. When making new investments, plan from the very start and understand your company's risk profile to ensure the integrity of the machine and data, as well as the ability to push trusted updates to address discovered vulnerabilities is critical.

In the face of those challenges, some manufacturers are hiding their IoT devices behind network firewalls and preventing any external internet access. This does provide some safety but incurs tradeoffs from an operational perspective as the ability to remotely observe, monitor and update those devices is compromised. Additionally, those tradeoffs can make it much harder to detect and mitigate a breach should an intruder penetrate the firewall. A better solution would harden the components and transmission layer so that monitoring and update protocols can be retained.
Change management and business process: The very features that make IIoT technologies a success can also introduce a host of new employee-related issues. For example, machines that incorporate cameras may also violate corporate policies or employee expectations regarding privacy.
Be transparent about the "what," "why," and "how" behind the potentially objectionable parts of IIoT, and let your business processes evolve to match your new reality. This also is a good time to consider health and safety regulations that may impose data retention requirements for the purposes of audit or compliance review.
Communication medium: Your IIoT Internet connectivity can be achieved via a broad range of technologies including cellular, WiFi, Lora, and Sigfox. Significant research may be required to determine the service that will provide the right mix of power consumption, signal reliability, adequate bandwidth, and platform viability to warrant investment—something a strong partner can help analyze. Remain flexible; the solution may be heterogeneous and scalable as the business grows.
Edge vs. cloud computing: As IIoT systems generate more data and the cost and power of edge computing improve, the IIoT industry will be processing data on the edges rather than just pushing it to the IIoT system. The result: Cleaner data, faster analysis and responses, and optimized bandwidth consumption. But edge computing comes with tradeoffs, including increased system complexity and the loss of the ability to analyze raw data sets. Data that is irrelevant today often can be important tomorrow, so care needs to be given when translating raw data to higher level events. Apply insights from internal subject-matter experts or an external partner to anticipate, and plan for, change management around edge computing.
Data silos: Most organizations experience some kind internal data siloing, but careful planning can help avoid new ones when adding IIoT. Standardize the formatting, processing, and storage of your new IIoT data from the very beginning to sidestep siloing and ensure long-term value. Remember that your current workforce won't be the only one interacting with the data, and that future employees will depend on its accuracy in making future business decisions.
Retrofitting legacy machines: Given the 30- to 40-year lifespan of manufacturing equipment, your business likely will need to plan for retrofitting legacy machines to avoid dark zones where visibility disappears and work is not tracked. Sensors and other third-party technology can be integrated with a vast array of existing equipment.
With the right combination of plan and partner, IIoT investments can make your manufacturing company more agile and better prepared to face competitors, avoid problems and grow for the future.
Ben Dolmar is the director of software development at Nerdery.