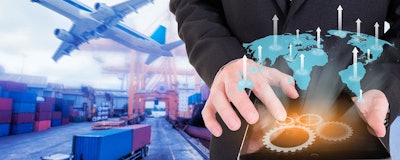 Purchasing is central to most business processes, so software applications that can address the entire purchasing value chain and integrate tightly with other vital areas of a business are a real business asset. Such software can reduce non-value-added work, provide real-time insights and enable a company to have greater operational agility in relationships with suppliers. Here's a look at Supplier Relationship Management (SRM) and the role it plays in helping companies master purchasing in an increasingly complex and volatile global market.
Imagine having a customer relationship management (CRM) application to streamline and record high-frequency and complex interactions with your suppliers and have all that communication connected to appropriate supplier quotations and agreements throughout your business. This is exactly what enterprise resource planning (ERP) with an embedded SRM solution can deliver.
Smoother Supplier Interactions – SRM in Focus
A good SRM solution will have the capability to allow users to track supplier interactions, including formal RFI/RFQ processes that result in Supplier Agreements or Purchase Orders. It will address requisitions to order through delivery monitoring and goods arrival, managing both direct and indirect materials—including support for authorizations. Users can then use supplier schedules to facilitate forecasts and call-offs in repetitive environments.
React to Trade Policy Change & Cooperate With Supply Chain Partners
Businesses increasingly operate on a global stage and need to be able to adjust to rapid changes in trade policy, which could restrict supply and increase landed cost. An SRM solution can better prepare you for this by bringing purchasing, the supplier and the end customer together into a single view. Using an SRM solution, businesses can decide to lock in longer-term pricing agreements with suppliers in regions potentially affected by protectionist trade policy.
It is also possible to collaborate with your supply chain partners to divide up the issues caused by tariffs or non-tariff barriers. This then helps you answer key buying questions such as: Is the vendor going to absorb that added cost, or is it going to be passed on to the customer or divided up among the supplier, your company and your customer? Because all the necessary information can be captured by ERP with embedded SRM, this allows the landed cost of the item to be calculated, put into inventory value and then, after evaluating basic cost realities, a decision can be made on what action will be taken.
A Holistic, Controlled Approach
A comprehensive SRM approach gives companies the timely information they need to negotiate with and make better decisions about vendors, which is important in a rapidly changing global trade environment. It is also a good fit for multisite companies operating globally.
This type of software has benefits for the supply chain team, such as letting them manage by exception. In an ideal solution, they can configure the system to let most purchases proceed with minimal interventions, but they may opt to subject certain purchases to greater review. This includes those without a default supplier, purchases above a certain dollar threshold, purchases that align with specific projects or other cost centers that may have their own rules or processes, and any purchases that are not for the acquisition of production raw materials.
Business processes are often split up between different people in the business, for regulatory and risk management purposes, and good SRM software will enable businesses to prevent a single person from creating a supplier record, approving a purchase order to them and then receiving the product. These preventive integrity controls can be automated using data on each user's role and permissions. This segregation of duties may also help companies doing business globally conform to multiple jurisdictions' compliance frameworks including Sarbanes-Oxley and security best practices.
Part Management for Better Decision-Making
Part information by supplier can also be managed to allow for better decision-making. For example, a part may be expedited by choosing a different shipping method. Or the same part may be obtained from a different supplier for a shorter lead time and at a lower cost but with the added hassle of performing inspections internally. This dovetails with materials requirement planning (MRP) and planning for required lead times. It should accommodate complex purchasing and scheduling functions including scheduling by part and supplier, supplier splits, project-or progress-based billing, and costing via landed cost. But in a global environment, the ability to identify part information by supplier may help a manufacturer mitigate emerging risks among suppliers that may come under sanction, or those located in potentially politically or economically unstable regions of the world.
Purchasing – an Operational Requirement
More than almost any other business discipline, purchasing is interwoven with the fabric of the business. That means your SRM solution needs to be part of a tight, enterprise-wide ERP suite that enables purchasing and supply chain professionals to drive more value for their associates around the company and around the world. It should automate and streamline much of the administrative overhead associated with purchasing, but it also can be a powerful tool in ensuring compliant and low risk purchasing on a global scale—especially at a time of increasing volatility.
Steve Treagust is global industry director for finance at IFS.