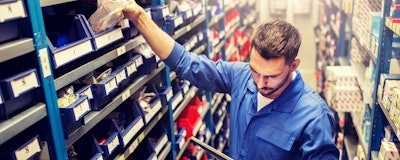 Today's most successful original equipment manufacturers (OEMs) have started to redefine the way they do business—shifting from a reactive, break-fix method of service to one that focuses on maximizing product uptime. Servitization, where a growing number of companies are shifting from selling products to selling access to and the outcome those products deliver, is driving this change.
As part of this shift, manufacturers must learn from leaders and laggards within other industries—e.g. Netflix vs. Blockbuster or Uber vs. taxi companies. Today's OEMs are at a pivotal point in their histories and they must decide: do they want to be ahead of the curve and adapt to change, or maintain the status quo and get left behind?
The good news is that many manufacturers are looking hard at adopting uptime-centric business models. In fact, according to research conducted by my company, Syncron, alongside Worldwide Business Research (WBR), 66 percent of manufacturers say that their executive suites are currently pushing a move towards uptime.
But what resources are needed to make uptime a reality? Below are three big needs for manufacturers as they embrace this shift:
Modernize the Service Supply Chain
The manufacturing industry has operated off the same script for more than a century: a piece of equipment is made, sold, and then ultimately repaired after it fails. Until recently, end-users had no choice but to eat the costs of this downtime. Now, with advances in IoT and predictive analytics, manufacturers no longer want to be on the hook for equipment that can't function. Instead, they want their products up-and-running all the time—because customers are demanding it.
This means that parts need to preemptively be available when and where they are needed, and proactive maintenance needs to take over to prevent breakdowns. Therefore, manufacturers must overhaul their supply chains and distribution strategies to allow this preventative maintenance to take place.
Establish a Subscription-Centric Focus
In the future, OEMs will no longer report on the number of new products sold, or even service parts revenue. In fact, they will follow the path many SaaS companies have taken, reporting on recurring revenue from subscription-based services. Customers will subscribe to their equipment much in the same way as they do their Netflix subscription, paying for output and value.
Adopt Dynamic Pricing for Service Parts and Contracts
It may seem obvious that selling a service part or service contract for the optimal price is a key way to create competitive differentiation, but unfortunately, too many manufacturers are still using outdated methods like cost-plus or simple spreadsheets. With e-commerce players like Amazon and eBay becoming more focused on the service parts space, competitively priced parts will become more important than ever. Modern service parts pricing technologies ensure the end customer has a great experience, while the manufacturer is simultaneously maximizing revenue and margins.

Servitization is clearly making waves in the manufacturing industry. And without the proper planning, manufacturers stand to be swallowed up. However, by laying out a carefully-planned strategy, these large, global brands can set themselves up for a seamless transition to a new way of doing business and give themselves the best chance at success for years ahead.
Gary Brooks is CMO of Syncron.