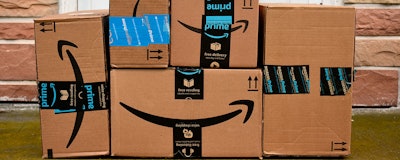 Amazon, a longtime disruptor of traditional business models, has doubled-down on its lucrative B2B sales division, Amazon Business. The division, which debuted as AmazonSupply in 2012, now has more than 1 million global customers in dozens of sectors, and is now on track to generate $10 billion in annualized sales.
Amazon Business recently expanded its services into three new global markets, bringing the number of countries it supports to eight. It's also making big moves to expand its medical products and services offerings in the U.S. and beyond, including a recent $1 billion acquisition of an online pharmacy, and securing deals with insurance and drug-benefit organizations.
Amazon's successful foray into B2B is staggering—and it should make B2B sellers sit up, take notice and invest in strategies to position themselves competitively.
With B2B ecommerce transactions expected to reach $1.2 trillion by 2021, B2B manufacturers should learn from Amazon Business and its approach to customer attraction and retention.
Strategize to Increase Global Competitiveness
Amazon Business' global success illustrates the increasing importance of providing convenient, personalized customer experiences—even in the B2B space. One powerful way to do this is to offer translated, culturally relevant online user experiences for international customers.
Many manufacturers don't offer localized online experiences, or don't do it well. Yet regionally targeted digital content can be an efficient way to increase market share and stay competitive against disruptors like Amazon.
Read on for more tips that can help your business set effective marketing and customer retention strategies to compete:
No. 1 - Invest in data.
Your website's data contains valuable insights into how customers interact with your brand. Use a robust analytics platform that accurately captures and reports website traffic, user engagement and other KPIs. Examine the data for opportunities to improve the customer experience.
Provide added value. Collect data on the products your customers order, including their quantity and frequency, to predict when customers may be due to reorder. Use this data to proactively reach out to start the fulfillment process, or suggest new products that may better serve their needs or offer greater value.
Accelerate fulfillment. Data can reveal the popularity of certain products by country. Use this information to localize product inventory and provide fast cross-border fulfillment. Minimize shipping costs and times by offering your local customers the most efficient fulfillment options for their regions.
Translate content to target underserved markets. Underserved markets offer a great opportunity for growth. Consider targeting countries where Amazon has a smaller market share. Translate your website to reach these customers through local search engines and facilitate their needs.
No. 2 - Offer a complete, customized digital experience.
With the ubiquity of digital connectivity today, B2B customers have come to expect the same excellent online experience that B2C companies typically deliver. To meet your customers' expectations, keep these guidelines in mind:
Communicate in the preferred languages of your customers. Provide global customers a fully in-language experience on your website and mobile apps. Customers feel more confident about doing business with vendors when they can research products and transact in their preferred language.
Ensure omnichannel brand consistency. Customers connect with brands in multiple ways, including social media, email and offline. Manufacturers that use consistent messaging across all channels build trust, draw traffic and increase sales.
Leverage new web technologies. Few B2B companies take advantage of technology like chatbots, yet such tools can aid B2B customers by providing a 24/7/365 sales channel anywhere in the world. Localize these experiences for maximum engagement.
No. 3 - Deploy a transactional website.
The buying habits of B2B customers are increasingly looking like those of B2C. Nearly 90 percent of B2B buyers use the Internet to conduct product research. Most prefer to make their B2B purchases online, too.
B2B manufacturers can meet customer expectations by offering e-commerce experiences.
To make the most out of a transactional website:
Pick the right platform. Most transactional platforms are designed for B2C e-commerce, but a few have been adapted to suit the needs of B2B companies. Be sure to leverage a platform that is flexible and scalable for expanding to new markets.
Localize the transaction model. Display prices in local currencies, including fulfillment costs. Be willing to support preferred payment options, or utilize a transactional platform that offers multi-currency support.
Position Your Business for Success
Keep in mind: Not every enterprise can be—or should be—"just like Amazon." But B2B companies can learn from Amazon's best practices and apply them along with strategies that differentiate them from the competition.
Amazon Business will undoubtedly be a formidable opponent, much like its retail counterpart. But B2B companies can hold their own and carve out a niche in their industries by striving to be data- and value-driven.
B2B brands that focus on meeting customer needs and expanding to serve global markets online can succeed by offering both the convenience that Amazon delivers, and the personalized value that it doesn't.
Craig Witt is Executive Vice President of Global Sales, Marketing and Go-To-Market at MotionPoint.