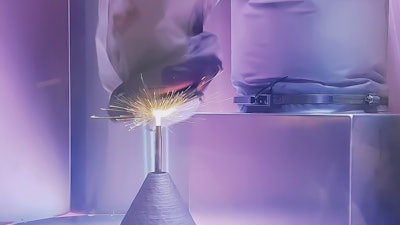 SPEE3D
Spare parts may be relatively small in size, but they can create big supply chain challenges, especially if your organization operates in remote locations.
Organizations in defense, mining, oil and gas, heavy equipment, and heavy manufacturing are prime examples. They all need reliable access to spare parts in locations that are often far from parts manufacturers, making it complex and costly to get those mission- and business-critical parts to the point of need.
Obstacles ranging from geopolitical conflicts and economic uncertainties to unexpected global events and labor shortages can disrupt supply chains and limit availability of parts. To counter these risks, many organizations stockpile spare parts for every conceivable need, creating additional challenges.
Transporting massive numbers of spare parts by land, sea, and air is an expensive, time-consuming, and high-carbon endeavor that eats into profits and erodes sustainability credentials. The need to construct, heat, and cool massive storage facilities and carry high inventory volumes further increases costs and carbon footprint.
Metal Additive Manufacturing Produces Parts On-Demand
To alleviate supply chain challenges for spare parts, organizations in defense and commercial industries are now using advanced manufacturing to make metal parts and tools themselves, on demand, in locations much closer to their operations.
These organizations use metal additive manufacturing technology — also called metal 3D printing — to make dense and strong replacements for parts and tools in a fraction of the time it takes to source them from outside suppliers or their own warehouses.
Metal additive manufacturing layers materials on top of one another based on a digital design to build up a metal part or tool. The capability is not new, but technology advances have made many techniques newly relevant and able to meet the tough demands of heavy industry on land and at sea.
Cold Spray Additive Manufacturing Delivers Numerous Advantages
One such technology, cold spray additive manufacturing (CSAM), produces stronger, more durable metal parts and tools than other additive manufacturing techniques. It can also print metal pieces faster, safer, and more affordably, using a wide range of materials.
In CSAM, metal particles are accelerated to supersonic speeds and sprayed onto the substrate to build up the layers of the part. There's no need to melt or sinter metal powders, and there are no extreme heating or cooling processes. As a result, parts have lower porosity, they're denser, and are far less likely to crack, warp, or fail over time.
Production speed is another important advantage. The supersonic speeds used in cold spray technology are considerably faster than other additive manufacturing techniques, and the overall process is orders of magnitude faster. Consider the business benefits when you can manufacture a:
6.5 kg (14.3 lbs.) aluminum valve housing in 75 minutes

2 kg (4.4 lbs.) aluminum bronze ratchet in 60 minutes

2.5 kg (5.5 lbs.) aluminum bronze flywheel in 25 minutes
Parts can be manufactured using aluminum 6061, copper, stainless steel 316, aluminum bronze, and other alloys, allowing a broad range of pieces to be printed. Safety is also increased. Because cold spray technology compresses and accelerates the air in the room to build up the part, no dangerous inert gases or lasers are required.
Say Goodbye to Lengthy Lead Times and Costly Delays
CSAM slashes the cost of the entire supply chain. Spare parts and tools can be rapidly produced on demand to reduce maintenance and repair costs for equipment, vehicles, and infrastructure, and avoid expensive downtime. There's no need to spend time and money sourcing the right parts, wait out lengthy delivery timelines, or pay premium costs for rush deliveries.
Your operations are more resilient to uncontrollable global supply chain issues, and you have new flexibility to continuously optimize the performance and efficiency of your machines to increase competitive advantage.
CSAM also helps your staff work more efficiently and effectively. They can rapidly prototype new parts and tools to avoid the high costs of small-batch manufacturing in far-off locations, and create jigs, fixtures, and aids that make machine shop tasks faster and easier.
Advance Your Sustainability Goals and Your Reputation
The environmental benefits of CSAM are very compelling — a real bonus as industries look to reduce their environmental impact.
Research from Swinburne University in Australia comparing parts manufactured using cold spray technology and traditional manufacturing found that cold spray technology:
Consumes 66 percent less energy

Emits 38 percent less greenhouse gases

Results in nearly 50 percent lower carbon emissions over its life cycle
When you can quote these kinds of reductions, your commitment to more sustainable operations is clear to your customers, your shareholders, and the general public.
Here's a brief look at some of the many additional ways cold spray additive manufacturing contributes to your sustainability goals:
Less heat: Cold is a key word. Any additive manufacturing process that uses heat or lasers will consume more energy than cold spray technology. Eliminating high temperatures and the need for extreme heating instantly makes the process more sustainable.
Less transportation: You can introduce cold spray additive manufacturing where it makes the most sense for your operations — whether that's right at the point of need or at a warehouse, machine shop, or repair facility that supports one or more of your sites.
Local manufacturing dramatically reduces land transportation requirements and eliminates the need for long-distance air and sea transportation altogether. This is significant when you consider that approximately 17 percent of the carbon dioxide emissions for a part are associated with transportation activities.
Less packaging and waste: When parts are manufactured locally, there's no need for the extensive protective packaging that's required when parts are transported long distances.
Less storage and raw materials: On-demand parts production reduces the need for warehousing and the associated heating and cooling. It also reduces consumption of the raw materials and resources that are used to create spare parts that sit in storage and may never be used.
Longer lifespan: Parts and tools printed using cold spray technology are durable enough to be repaired, restored, and modified to eliminate the need for early replacement and minimize waste.
Three Tips for Successful Technology Introduction
Like any new technology, additive manufacturing technology should be carefully evaluated to ensure it maximizes the benefits to your operations from day one:
Define your needs: A clear, common objective allows all stakeholders to move towards a shared goal rather than participating in unmapped research programs.

Invest in real-world applications: Selecting the right parts for additive manufacturing within your risk management framework is key to successful technology introduction and return on investment.
Choose the right tech: Each additive manufacturing technology has its strengths and weaknesses. It's key to adopt the right technology for your unique technical, operational, and commercial challenges.
Byron Kennedy is the co-founder and CEO of SPEE3D, an additive manufacturing company headquartered in Melbourne, Australia.