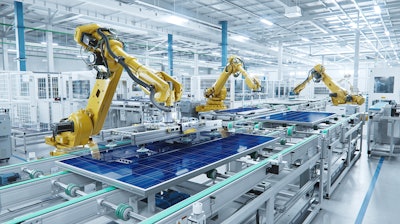 iStock
Each day, as we stare into the glowing screens of our devices and tap instructions to be carried out by code and processing power, it becomes easier to believe that we're on a trajectory toward total tech domination. And manufacturing, an industry with a seemingly unshakeable reputation for being old and dusty, is no exception. In fact, in many ways our industry is leading the charge, and maybe that's a good thing.
Most Read on IEN:
In June, McKinsey unveiled a report that sheds light on a phenomenon many of us feel, but haven't quite been able to articulate in such a way. According to the report – "Is Industrial Automation Headed for a Tipping Point?" – the factory of the future when "software-defined manufacturing will turn shop floors into 'smartphones with robotic arms'" is more than hyperbole – it's nearing reality.
What that timeline looks like is up for debate – even for McKinsey, who contends it could be five years or 15… that all depends on "the speed of technological advances and their adoption in different industrial sectors."
And while it all remains to be seen, it seems easy to assume accelerating speed in both areas – especially as we see technology improve and proliferate before our very eyes.
Now to the adoption component. Last year, CB Insights unveiled its 2022 Tech Trends report, where analysts laid out of a compelling thesis: In response to global disruption, they said, the manufacturing sector had "changed dramatically" in just the two years since the onset of the COVID-19 pandemic. The report's research brief added that manufacturers "are increasingly looking to new technologies — from advanced robotics in R&D labs to computer vision in warehouses — that increase productivity to remain competitive."
The report, perhaps ominously, added that every manufacturing vertical would see "sweeping change" within the next decade.
But is it, truthfully, ominous? It's clear that this adoption is coming out of necessity. Earlier this year, a survey issued by Xometry revealed that 82 percent of manufacturing companies said they were experiencing labor shortages. And while this has become a familiar refrain, a subsequent detail revealed a compelling point: of those companies experiencing a deficit in skilled workers, the category that was most challenging to fill, they said, was in entry level production roles.
Filling these positions has become more difficult, not just because of perception or lower wages, but because they demand more. We increasingly see small and medium sized companies, the largest segment of US manufacturing, add customization to their products. As this shift in customer preferences takes place, there is opportunity for automation to solve the labor problem.

According to a 2020 report in the New York Times on "mass customization" in manufacturing, there's a shifting production environment where human work is paired with intelligent business and automation tools – even at smaller enterprises. Said the article, "To keep costs low, mass-customized products often combine bespoke components with mass-produced ones, with the bespoke elements added toward the end of a production run. So-called smart factories are best positioned to add bespoke elements to otherwise standardized products in a cost-efficient way.
Perhaps this is an unpopular statement, but if automation solves a labor problem that's proven to be stubbornly unsolvable for years and supports the evolution of manufacturing as it shifts to more customized, BTO type products, then where's the harm? A tipping point might feel foreboding – a point of no return for certain types of manufacturing work – but the alternative might be far worse: businesses stymied by a lack of labor unable to reach over the barriers. Instead, manufacturing plants staffed by a mix of people and automation and supported by tech tools might become the ones that are efficient enough to operate at all. And if a labor shortage is what's pushing that forward, that might the best thing for American manufacturing after all.
But the flip side is that just as the skills shortage can put the need for automation into more stark relief, it could easily cast a shadow on its implementation as well. According to Forrester, skills shortages in tech areas will slow automation rollouts due to lack of development and support – a double edged sword in a business environment full of them. So balancing along the tipping point requires awareness, but just as many resources. Smart businesses will attack from both sides.