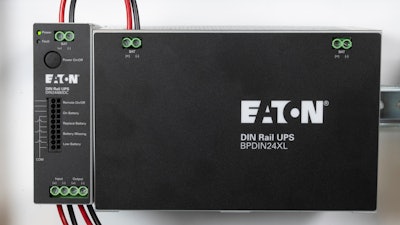 Eaton
Hurricane season is underway and federal agencies are urging for early preparation amid rising temperatures in the Atlantic. Since hurricane paths and seasonal forecasts can be difficult to predict, it's vital for manufacturers to act now in strengthening their disaster preparedness strategies as they look to prevent downtime and protect their operations.
Making the right strategic decisions will put manufacturers in the best position to face whatever Mother Nature might bring in the coming months and beyond. Having an intelligent backup power system in place can minimize the impact of damaging power outages.
Before the storm
Several recent high-profile, widespread weather-related outages have driven home the urgency of disaster preparedness. In June, extreme heat left 450,000 without power across Texas, Oklahoma, Louisiana, Arkansas and Mississippi. Storms with winds exceeding 95 mph caused power outages for more than 139,000 people in Oklahoma. Severe weather also took down a 911 call center in Jackson, Mississippi.
For businesses, weather-related outages can result in unplanned downtime that comes with a high price tag. According to the Uptime Institute's 2022 Outage Analysis, more than 60% of reported power outages have resulted in at least $100,000 in total losses for those impacted – a whopping 39% increase from 2019. For the industrial manufacturing market, downtime costs the industry an estimated $50 billion each year.
An integrated approach to power management can help manufacturers prepare for storm season and protect their investments. Core to any backup power strategy is an uninterruptible power system (UPS) which serves as the important bridge to generator power in the event of an outage.
Calling for backup
As part of an integrated power management solution, manufacturers should couple their UPSs with a comprehensive service strategy to keep supporting components functioning properly. This will help to ensure the system is always ready to spring into action when the unexpected happens at one of their facilities.
There are several innovations that IT teams should consider utilizing to optimize their UPS systems and overarching backup power strategies. A UPS deployed with lithium-ion battery technology can help improve service life, offering an eight-to-15-year life cycle compared to traditional valve regulated lead-acid batteries – which generally need to be replaced every three to six years. With a lithium-ion solution, IT staff can also ease maintenance demands for UPSs or battery replacements that could potentially stall service operations.
Additionally, disaster avoidance software is a valuable resource for manufacturers and their IT teams to leverage in overseeing device status across multiple plants. Software applications are integrated with power management equipment to enable a proactive approach to the remote management of critical infrastructure. The solutions can be combined with advanced capabilities such as predictive analytics services that offer insights on power trends over time, allowing IT teams to use the data to make better decisions and create efficiencies in their operations through proactive maintenance.
Manufacturers should also ensure that they're using industrial-grade power management equipment. Devices that are designed to withstand harsher conditions, including surge protectors and power distribution units, will help IT teams deliver a well-rounded strategy to keep systems safe and powered in the face of unpredictable weather events.
Calm the storm
Without an appropriate backup power strategy in place, a weather-related power outage could stop manufacturing operations, which are critical to revenue generation. Manufacturers can't control Mother Nature, but they can control how they prepare for potential dangers. Building a comprehensive backup power strategy now could make all the difference in preventing major issues with downtime down the road.
Ed Spears is a technical marketing manager in Eaton's Critical Power & Digital Infrastructure Division in Raleigh, North Carolina. A 40-year veteran of the power-systems industry, Ed has experience in UPS systems testing, sales, applications engineering and training—as well as working in power-quality engineering and marketing for telecommunications, data centers, cable television and broadband public networks. He can be reached at [email protected], or find more information at Eaton.com.