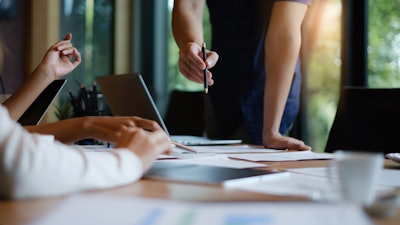 iStock
Manufacturing is one of the world's oldest and most crucial industries. Over the years, it has undergone a significant shift in terms of how it exists within the ecosystem of the digital transformation that is paving the future of technology. The current pace of technology development has led many businesses to deploy business applications to improve operations and increase efficiency.
Business applications are generally implemented to elevate productivity, automate processes, manage data and information, and ultimately, provide decision-makers with access to better and more informed business decisions. Such applications also result in benefits like increased collaboration, enhanced data management and analysis, improved customer experience and increased profitability.
To achieve these via business applications, technology must be deployed with best practices in mind. In doing so, organizations can avoid common pitfalls and challenges related to the development and implementation of new applications.
To meet organizational needs and achieve desired results, businesses should utilize the following steps when leveraging business applications in the manufacturing sector:
Meticulous, Strategic and Thorough Planning
Because the market is saturated with business applications, it is imperative to identify top organizational needs and utilize system features that will align best with the company's strategic endeavors. With the variety of applications available, it can be challenging to select what is most suitable. However, when planned thoroughly, decision-making becomes seamless and simplified.
The first step in the planning process is to assess options. To accomplish an honest assessment, objectives, KPIs and requirements must be clearly defined. By outlining the pain points your manufacturing organization is experiencing and establishing clarity around desired outcomes, the process is significantly improved. When thorough planning is performed, organizations can ensure that the application will meet the desired needs of the manufacturing enterprise it serves.
Once these initial planning steps have been determined, the application moves into the deployment phase. The first step here is identifying the key areas within the manufacturing institution that can benefit from the Business Application.
For example, manufacturing processes like tracking production, inventory, shipping and processing all play an important role in overall execution and can be automated using business applications.
When replacing existing work models with automated solutions, current technical capabilities within the organization must be identified and a list of requirements created. Such a list typically includes IT infrastructure, hardware and software, available data storage, network capabilities and additional upgrades.
Once assessed, manufacturing entities have a granular view of the areas within the organization that will benefit from the developed application. The goal here is to integrate the Business Application within all aspects of the company to automate mundane tasks and allow for improved productivity.
Compatible Technology and the Right Implementation Path
Once the technology capabilities have been assessed, the manufacturer should then choose the right platform to meet future business needs. This is done by evaluating the widely available range of business applications, including Enterprise Resource Planning (ERP), Customer Relationship Management (CRM) and Supply Chain Management (SCM).
Each platform contains different tools and features and strategic designs to suit certain manufacturing needs. By choosing the right platform to support your enterprise's specific requirements, you can set the tone for long-term goals such as scalability, reliability and flexibility.
Every manufacturing organization has individual needs as they relate to size, process complexity and available budget. Therefore, a detailed project plan is to be developed and includes a list of key stakeholders, required resources and clearly defined objectives and milestones. Key stakeholders should be included in this development phase and given a clear line of communication to ensure consistent information is being dispersed throughout the deployment process.
The project plan also sets the tone for the implementation stage of the selected Business Application. This phase involves the installation and configuration of the application and ensures smooth integration that will align with existing systems and data sources. It is vital that all data be accurate and up-to-date to ensure the application is fully configured and integrated to meet the organization's predetermined needs with existing systems and data sources.
Focus on User Experience and Compatibility
Once deployed, the success of a Business Application often depends on how well-received it is by users. Therefore, it is necessary to prioritize the user experience when designing and developing the application to meet the needs and expectations of the target audience. Doing so ensures it contains user-friendly features, intuitive interfaces and accessible functionality. By prioritizing experience, manufacturers can increase user adoption and satisfaction and, in turn, improve overall application performance and efficiency.
To receive full buy-in for this adoption, enterprises must engage in conversations with key stakeholders and conduct surveys or form focus groups to understand the challenges faced by users. Additionally, leaders can perform benchmarking and create prototypes to ensure the user interface is both intuitive and easy to use.
Another successful approach is to implement a training program once the application is launched to showcase how the program provides accessibility and understanding for users. When organizing a training program, it is important to ensure all aspects of the application have been covered, including how to use the software, important features and how each of the functionalities works.
Once users have been primed to use the application, the next step is to provide ongoing live support or online knowledge-based assistance. This is to ensure they remain confident in using the application regularly to meet the organization's goals and can quickly resolve any issues they may encounter.
Security and Data Protection
One of the biggest challenges in deploying business applications for the manufacturing industry is ensuring the system is secure and fully protected against unauthorized access and data breaches.
Because business applications within the manufacturing industry often deal with sensitive data, it is important to have robust security measures in place to avoid a system breach. By planning for data protection and security from the onset, you can ensure all data is stored and transmitted securely.
One of the best ways to do this is to invest in advanced security measures like firewalls, encryption and access controls. When such an investment is made, it is also crucial that regular monitoring and updates to security measures take place to ensure they remain effective.
Performance Monitoring and Continuous Improvement
Another challenge in the use of business applications for manufacturers is the need to guarantee that the system is both scalable and flexible. This requires choosing an application that can grow and adapt as the organization evolves over time, as it is integrated into new or emerging systems and technologies. It is also important to regularly review the system to ensure continuous improvement in outputs to meet the manufacturer's evolving needs.
Continuously monitoring the application's performance and gathering critical user feedback can help identify opportunities for ongoing improvement. Doing this will help ensure that the application remains relevant and effective in meeting the ever-evolving needs of the manufacturing entity utilizing the software.
Having a dedicated team in place for managing the deployment process and safeguarding the system can make sure it is properly maintained and updated regularly.
Boost Service Levels and Profitability in Manufacturing with business applications.
Technology services play a critical role in finding the right business applications that will significantly increase efficiency and improve operations. With proper planning and implementation, manufacturers can streamline processes for optimal output of service and profitability.
---
Akhilesh (AK) Nandwana serves as the VP of business applications at Synoptek. As a seasoned Business Application expert, AK has worked with many leading organizations like Ramco, Accel ICIM, HCL Tech, Microsoft, etc. In his current role at Synoptek, he leads a team of over 175+ consultants across ERP and CRM Services and is responsible for the overall growth strategy for the company's Business Application practice, management of day-to-day operations and spearheading stakeholder relationship oversite for the entire business applications pillar.