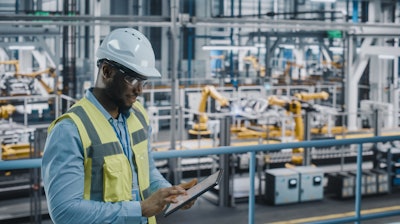 iStock
Many global companies have learned to embrace technology over the past few years and not just by adapting to video conferencing with remote teams. Software platforms are growing to make every part of running a large company easier.
Manufacturers are embracing technology across their operations, from automating factory floors to AI predicting machine maintenance before break down to managing customer relationships and roadmapping products. Automation, integration, and compiling of data into centralized platforms are helping manufacturers achieve more of their annual goals.
Designing, testing, validating, and manufacturing products for distribution can only happen in today's world with the use of technology and continuously updated software. But software is not just helping manufacturers in their operations; it's helping them develop and create better products.
Product roadmap management (PRM) software empowers manufacturers and their teams to monitor, analyze, and manage their complete product portfolios with greater knowledge and efficiency than ever before. And better products ultimately lead to higher revenue.
Here are seven ways that PRM software benefits manufacturers.
1. Improving Communication Company-Wide
Streamlining communication and sharing up-to-date information takes a lot of work. All companies struggle with this, and manufacturing companies are no exception.
Organizations often need to rethink how they communicate their long-term vision with their teams. The information usually stops with upper management and fails to filter through to all stakeholders. The same issue arises laterally as product teams attempt to share important information between departments.
The primary reason for the bottlenecks of information and the formation of data silos is the multitude of platforms used by each division in the company. A simple solution to combat these obstacles is using one overarching platform where all stakeholders can access one source of truth.
By using PRM software, collaborators, stakeholders, and managers can see the same data, share the same documents, and can visualize the product plans. Not only does information sharing become simpler, but aligning everything to the company goals becomes possible.
2. Managing Entire Product Portfolios with High-Level Dashboards
The most agile manufacturer teams know their products inside and out. PRM software can help managers and their teams gain that level of knowledge with high-level dashboard views of the product portfolio.
These dashboards give product teams greater insight into all roadmaps, from product line features to highlighting and tracking changes between milestones.
There is an abundance of information associated with each product line and individual product. Innovative visual dashboards that display the most relevant metrics enable quicker decision-making.
When shortages arise, or production delays happen, product teams can adapt their roadmaps either by accessing a shared feature from elsewhere in the portfolio or by changing and shifting release times.
Managing a product portfolio in one central location makes it easier to make adjustments, spot trends, and track company-wide progress.
3. Analyzing Product Lines Separately or Comparatively
In addition to analyzing their entire portfolio, product manufacturers also need to monitor their product lines. Continually refining and improving each brand line with customers' needs and wants helps companies stay competitive.
Settling for the same variety of products will diminish the company's position in the market over time. PRM software makes it easy to view a complete line of products at once or compare several brands together.
Analyzing the products in one particular line side-by-side helps to highlight the opportunities to improve. Side-by-side views also make it easy to visualize cross-over components between products.
When product managers have this level of detailed information at their fingertips, they are far better equipped to make agile decisions about products when problems arise.
4. Ranking and Scoring Products
Many manufacturers benefit from comparing their products against each other with an assigned score. The top PRM software options will have product-scoring features that allow targets to be manually set.
The result is an assigned score to clearly size up product options side-by-side. Seeing an unmistakable score can help improve insight into which products deliver more value than others.
It also makes it apparent where to change features, constraints, and options to enhance the value of specific product offerings. Informed data always makes it easier to decide on product definitions.
5. Analyzing Product Information
Transparent data that is accessible to all stakeholders make product analytics easier and more effective. When managers can visually walk through their product lines, seeing exactly how one product model progresses to another, they can more easily spot gaps in their product offerings.
For managers who love numbers, having both visual options and custom-generated reports help all stakeholders get the information they need.
PRM software that allows for automation and integrations makes it easy to update analytics everyone can see, even when roadmaps change. And centrally located dashboards mean everyone can see the same updates in real-time, maintaining alignment across teams.
6. Capturing and Tracking Competitive Analysis
Developing products that lead the market requires knowing what the competition is launching successfully. It can be easy for product teams to focus narrowly on their own products and neglect to monitor the competition.
That doesn't mean that all business decisions should be based on what the competition is doing, but there are reasons why certain products top the consumer preference list.
There are digital tools that make competitive analysis easier than wasting employee hours filling in spreadsheets and creating graphs. Manufacturers should choose PRM software that offers a competitive analysis feature of their main competitors to show a side-by-side comparison of their products and those in development.
A clear visual comparison of products based on data helps remove bias from the analysis. With a pure comparison of the facts, it's easier to recognize gaps and opportunities to create plans for better products.
7. Planning Better Products
Across the organization, PRM software helps product teams understand their portfolio better and align with company values at every stage. All this should lead to building better products, but PRM software can take it one step further by offering a test space to model out "What If" scenarios on developments in the ideation stage.
Want to see if a change in weight will affect a product? Product teams can map it out and see the implications of such a change. Stakeholders can also collaborate to see if spending more money on more durable materials is feasible budget-wise and works with the other components of the product.
Having confidence that a product idea is feasible makes it a much stronger case when presenting to executives for approval.
Driving Product Strategy with Product Roadmap Management Software
Every manufacturer wants to achieve more of their annual goals and drive their product strategy effectively across their portfolios. Product Roadmap Management software, such as Gocious, makes it possible to hit targets and improve strategies for every product line.
At the end of the day, manufacturing companies want to improve their efficiencies and agility, and software and technology in all facets of business can help get them there.